Sweep Top Talent Off Their Feet: 3 Ways to Attract High-Quality Employees From Good Jobs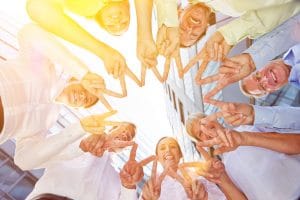 As a recruiting agency, we know that the best employees are often not unemployed. Instead, they are in key roles in various industries. Although recruiters have the ability to locate such individuals, the question is whether an employer can convince them that their careers will be better served with their company. The following are some ways to do just this.
Rethink Marketing
One pivotal way to attract high-quality employees who already have great jobs is by demonstrating why your company is better. This requires you to make your business prominent in the industry. A promotional, employee-centric video can help engage potential employees. Other strategies that can lure exceptional candidates include:
Maintaining a current, informative blog that shows your understanding of your industry
A large and engaged social following
A robust media presence
When you stand out from the crowd, you can attract the best employees.
Focus on Company Culture
Although money matters, companies that only offer good salaries will continually get ignored by employees looking for more than just a paycheck. Today's high-quality employees want engaging workplaces where they feel they can make a difference.
Above all else, employees want to know that they will be treated as valuable members of the team. As such, you should be able to communicate how this particular job will benefit their own future. Satisfying your existing employees is also a key element in demonstrating the positive work culture your company embraces.
Sell the Dream
While recruiters can make an initial connection between an employer and phenomenal candidate, employers need to then demonstrate how much they want the employee to become a new member of the company. The best way to do this is by researching the candidate and appealing to their interests and lifestyle. Showing that you are willing to go the extra mile to attract them will go a long way toward getting them on your team.
Successful companies close the deal by going through an incredible presentation on the company, its rich history and its clout in the industry. They also highlight the advantages of working for them so that they can solidify the main reasons why the candidate would want to work for them. Having current employees add their perspective adds a finishing touch to the presentation and often convinces candidates to jump ship.
Recruiting, fundamentally, is selling. The vision. The mission. The dream. With "Top-Tier" candidates, they're not selling you: you are selling them. If you keep these key points in mind, you will invariably have more success attracting the right people to your team.
About the author
Matt Erhard is the Managing Partner at Summit Search Group. Matt is a skilled leader in professional and executive recruiting in Winnipeg; he has earned the role of trusted partner to his clients. Through open dialogue and attention to detail, Matt creates long-term partnerships with candidates and clients alike. Follow Matt on Twitter @MattErhard.
Job ID
City
Remuneration
Apply Online
If your qualifications are a match for this position please apply online for immediate consideration. Thank you for your application.
Position Applying For:
Sweep Top Talent Off Their Feet: 3 Ways to Attract High-Quality Employees From Good Jobs
*If you experience trouble submitting your resume' here, please email the recruiter directly, you can find the recruiter's email address next to photo of the recruiter above, or contact your our local office.