New Year's Resolutions For Your Business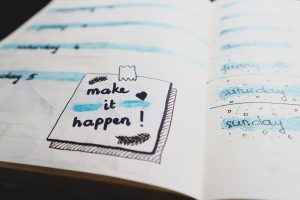 A new year means a fresh start and new opportunities. And after the uncertainty of 2020, I feel a change is more than welcome! While many people are making personal New Year's resolutions, there is no reason that you cannot, and should not, apply the same thinking to your business.
To set yourself up for success in 2021, here are some helpful tips and resolutions that can be applied to your business in the year ahead!
1. Reflect on the Year that Was
A new calendar year is the perfect time for reflecting on the year that was and looking to the future. Ask yourself some important questions about your business.
As I look back on 2020, it has been a year unlike any other. It was a year that brought challenge and change for all of us, and in many cases, put strain on individuals, families and businesses. If your goals went right out the window, you are not alone!
Were you able to pivot and find success despite COVID-19? If so, congratulations! Now, what can you do to build upon that in 2021?
If you experienced a slow down in business, think about the first few months of the year or how you performed when not in lockdown. Was there something more you could have done? Were there any bright spots? Lessons learned?
2. Check in With Your Team
Checking in with your team doesn't have to be limited to performance reviews and annual planning sessions. Frequently touching base with your team can help you strengthen your business by providing valuable insights on the health of your team and on your company culture.
Plan to sit down and with your direct team, one-on-one, once a month. Set time in your calendar to check in with how they are doing, both professionally and personally and see where you should make changes or identify areas that require more focus or energy.
3. Stay Up to Date on Hiring Practices
While you may not be hiring on a regular basis, or perhaps you are growing your team rapidly, hiring practices are changing. Hiring and workplace diversity and inclusion are a top priority and crucial to ensure your process is free from biases related to a candidate's age, race, gender, religion, sexual orientation, and other personal characteristics that are unrelated to their job performance.
Talk to your human resources leader or recruitment partner on a regular basis so you are fully up to date and understand the ways that these practices are connected to your business decisions.
4. Stay Up to Date on COVID Relief
Unfortunately, COVID-19 is going to be with us as we move into 2021. Even if you have been forced to close your business or have moved your team remotely, it does mean that you have new challenges and need to stay up to date on what is happening in the world.
The Canadian government has continued to support businesses during this complicated economic period. Take the time to study the Canada Emergency Wage Subsidy (CEWS), the Canada Emergency Business Account (CEBA) and the Canada Emergency Rent Subsidy (CERS) to see if you qualify.
5. Improve Your Recruitment and Hiring Processes
Sometimes, a long hard look at your internal processes will provide great avenues for improvement.
Look at your recruitment and hiring practices. Are you still relying on job postings for all your new hires? Do you have a recruitment strategy or is it more reactive based on your needs of the moment? Now might be the perfect time to reflect on your hiring practices, review your hiring needs for 2021 and strategize how best to build your team and grow your business.
Having a proactive strategy to hiring and recruitment can help ensure you identify and onboard the best people for your team.
To discuss your recruitment needs, reach out to your recruitment consultant to put a plan in place today.
6. Develop Your Onboarding Strategy
Integrating a new employee is one of the most important things you can do. Employees who go through effective onboarding are 18 times more likely to feel committed to their company, according to a study by Glassdoor.
Devote time developing an onboarding strategy, especially when hiring remotely, can help new employees feel more connected to your company and their coworkers. For a complete guide on hiring remotely, download a free copy of our ebook How To Hire Remotely.
7. Set Goals for 2021
We understand that COVID-19 has put many businesses into challenging situations so making goals and resolutions may not seem like a priority. But, if you take the time to set goals, even small ones, you will have some direction and purpose during these uncertain times.
Set goals that are achievable. Make a list, and review your progress on a regular basis. Setting goals can help you maintain focus and better navigate any obstacles that come your way.
Let Summit Search Group support your resolutions
New Year's resolutions are yours to make but you do not need to go on the journey alone!
No matter your business, industry, or goals for the year, Summit Search Group can help. From developing a hiring strategy to recruiting the best candidates to your talent pipeline, we provide businesses across Canada with expert recruitment advice and hiring services.
Contact us today to take your business practices to the next level! This article was written by Matt Erhard, Managing Partner.
Job ID
City
Remuneration
Apply Online
If your qualifications are a match for this position please apply online for immediate consideration. Thank you for your application.
Position Applying For:
New Year's Resolutions For Your Business
*If you experience trouble submitting your resume' here, please email the recruiter directly, you can find the recruiter's email address next to photo of the recruiter above, or contact your our local office.