Industry Spotlight: Recruiting in Sales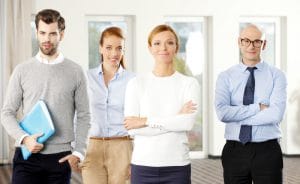 The success of any company depends significantly on the strength of its recruiting strategy. However, the specifics of recruitment aren't necessarily the same across all industries. As part of a series on industry-specific recruitment tips, let's start by taking a look at recruiting in sales.
Consider Your Sources
One of the first things to bear in mind about sales candidates is their ability to sell themselves during an interview. Because self-presentation is such a core part of the field, it's not wise to bank entirely on the impression you get from that conversation. This is why you should pay close attention to how you're sourcing your potential hires. Seek them out in their own environment, such as sales meetups and conferences. Who seems to be in their element and truly driven to be a great salesperson? Utilize web-based tools as well. LinkedIn's talent pool reports can be strong asset for a data-based approach.
Understand Skill vs. Character
In many fields, there are countless hard skills that need to be represented among a candidate's attributes in order to make them hirable. Generally speaking, however, experts in sales recruiting often recommend focusing on characteristics that can't be taught. The greatest sales recruits will have a desire to succeed and a set of interpersonal aptitudes that are ingrained in their character. This is why it pays off to think of your talent pool quite literally in terms of talent, rather than only in terms of skill and industry knowledge. On top of this, you should carefully consider how their character fits into your company culture.
Draw Them In
Speaking of company culture, the way you shape your business to appeal to the best talent is especially important in the sales industry. This is due in part to its particularly competitive nature. You'll need to exercise a lot of determination in reaching people and distinguishing yourself as an employer. Always strive to build an attractive brand with a reputation as an industry leader. Demonstrate a desire to foster advancement and the development of your sales team's abilities. Offer competitive compensation packages as well. Lastly, social media is one of the strongest channels to connect with sales talent, so use it accordingly!
Are you a sales manager hoping to build a truly great team of salespeople? In addition to considering the above factors, your best bet is to join forces with the most respected recruitment agency in Canada. Get in touch with a Summit Search Group office near you to get started!
Job ID
City
Remuneration
Apply Online
If your qualifications are a match for this position please apply online for immediate consideration. Thank you for your application.
Position Applying For:
Industry Spotlight: Recruiting in Sales
*If you experience trouble submitting your resume' here, please email the recruiter directly, you can find the recruiter's email address next to photo of the recruiter above, or contact your our local office.