How Structured Should Your Interviews Be?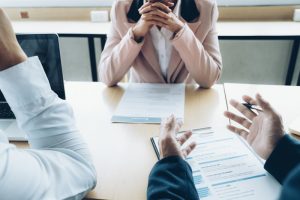 Interviewing candidates can be a much more challenging process than it seems, not to mention the pressure involved in selecting the right hire. One key factor determining the effectiveness of your interviews is how structured they are. Let's look at what this means and why it's important.
Understanding Interview Structure
There's no shortage of recommendations on specific interview questions out there today However, rather than take note of only questions themselves, it's wise to understand the relationship between what you say to a candidate and the deeper structural approach you're taking. In essence, the structural character of an interview is defined by the degree to which your questions and general conversational conduct are fixed or predetermined. Not all hiring managers or HR professionals devote conscious effort towards shaping this, so gaining a sharper awareness of interview structure as a concept can give you a considerable advantage.
Determining Your Approach
What kind of interview structure best suits your needs? A structured approach, wherein your questions are determined in advance, can be practical if you desire a precise method informed by your analytics. On the other hand, this can lend itself to a fairly impersonal experience for the candidate, and you'll also need to devote quite a bit of time, research, and care towards writing the questions effectively. An unstructured approach, meanwhile, will be more natural and conversational. This is typically conducive to a better candidate experience, but it can be trickier in this case to produce concrete comparison data on your candidate pool if you need it.  
Other Factors at Play
When examining different structural methods for your interviews, bear in mind that this decision should always be informed by the circumstances at hand. The position may, for instance, require certain communication and interpersonal skills that you can only truly evaluate through fluid conversation. Conversely, the position could be quite systematic in nature and demand a highly specific set of criteria that you need to consider objectively. You may even find that neither a wholly structured or unstructured approach is best, in which case a hybrid format consisting of both standardized questions and free-flowing discussion could be the way to go.
You know what's best for your company and which hires will make the right match. We know how to find and connect them to you. Together, we can ensure a better future for your business and the team that makes it special. Get in touch with our recruitment specialists to get started!
Job ID
City
Remuneration
Apply Online
If your qualifications are a match for this position please apply online for immediate consideration. Thank you for your application.
Position Applying For:
How Structured Should Your Interviews Be?
*If you experience trouble submitting your resume' here, please email the recruiter directly, you can find the recruiter's email address next to photo of the recruiter above, or contact your our local office.