5 Common Networking Mistakes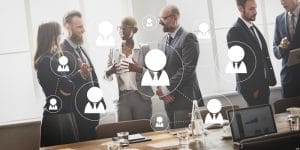 Every job seeker needs a skill set relevant to the kind of work they're looking for, but there is also a skill set needed for the process of job seeking itself. One of the most important is the ability to network effectively. See how much further you can get by avoiding these mistakes.
Prioritizing Quantity Over Quality
If you're an eager and ambitious professional in your field, this is a good trait to highlight when carving out your brand as a candidate. However, it's important not to let your energy be directed in the wrong way by connecting as quickly and widely as possible. Take the time to do your research on key people and develop deeper, more meaningful relationships rather than feverishly linking with one person after another.
Failing to Follow Up
Let's say you meet a successful and well-respected person in your industry. It's clear that they have a lot to offer and the two of you have genuinely connected on a professional, intellectual, and cultural level. Perhaps the biggest mistake you can make now is fail to follow up. Connections shouldn't just be made, they should be attentively nurtured. It's important not to be over-assertive, but you should certainly reach out and keep yourself on their radar.
Focusing Too Much on Vertical Connections
It's crucial to make connections with those who have climbed the ladder and can serve as sources of inspiration, aspiration, and mentorship. That being said, far too many professionals avoid or fail to consider connecting with their peers. You can still learn from those who are at equal or just slightly greater advancement, and employers will love to see that you've expanded your visibility and become an active member of your professional community.
Being Inconsistent
Once you land a job that you're happy with, is it safe to bump the brakes on your networking mission? It's certainly not as safe as most job seekers seem to believe. Just because you're enjoying a great position at a great company doesn't mean that continuous, consistent networking won't benefit you throughout the course of your career. Get into the habit of thinking in terms of the bigger picture, building a better professional journey at large.
Relying Too Much on One Resource
Using LinkedIn for professional networking is an aspect of career development that everyone should take seriously. Building strong professional relationships in person is also key to creating a more substantial community. Depending too much on one or the other, however, is a mistake. Don't take digital tools for granted and don't squander traditional venues like career fairs. A smart job search is about balance and resourcefulness!
Will you transform your approach to networking and become a more connected and in-demand candidate? Summit Search Group is the recruitment agency helping countless Canadian professionals take their careers to the next level. Try our job search portal to get started today!
Job ID
City
Remuneration
Apply Online
If your qualifications are a match for this position please apply online for immediate consideration. Thank you for your application.
Position Applying For:
5 Common Networking Mistakes
*If you experience trouble submitting your resume' here, please email the recruiter directly, you can find the recruiter's email address next to photo of the recruiter above, or contact your our local office.