Your Workplace and the Holiday Season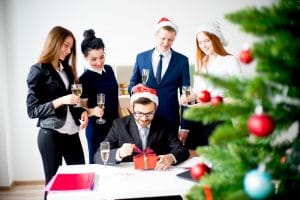 This time of year can bring a complicated mix of emotions into any workplace. There may be a holiday-induced rush of clients that contributes to stress, but the holiday spirit can also work wonders for morale. Fortunately, there are ways to deal with the former and ensure the latter.
Seasonal Strain
Depending on the nature of your company, you could be dreading the holidays every time they come around. Some businesses see a dip in activity during this time of year, particularly if they don't provide a product or service that is crucial during the season. Others, meanwhile, experience a wave of business that can leave staff quite overwhelmed. Both of these have in common the fact that they result in stress, albeit in different forms. Whichever of them you're facing up against, you should seek ways to soften the blow of this stress and make the holidays as positive as they're meant to be.
Building the Right Environment
If it's holiday downtime you need to cope with, there are plenty of opportunities to keep yourself and your workforce energized. It's the perfect time of year to reflect on the nature of your company culture, the achievements you've made as a team and what improvements can be made across multiple categories. Encourage your employees to set new goals for the coming year based on what they learn from this reflection time. If you're subjected to a fast-paced holiday season, on the other hand, keep morale high by sprucing up the office and getting into the holiday spirit.
What About Your Recruiting?
Of course, this season doesn't only affect you and your immediate staff, it also brings a number of important considerations to the table in the department of recruitment. If you need temporary seasonal recruits to help out during the rushes, be sure to open up your search for these employees in October and November to allow yourself enough time. Even if you're not in need of extra team members during this period, the holidays can be a good time to source for your talent pool or even invite a promising prospect to a company holiday party!
As always, it's been our pleasure to spend another year connecting businesses and candidates all across Canada, and we'd like to wish you and your team an excellent holiday season. If you're looking to fill a crucial position, contact the Summit Search Group office in your city today!
Job ID
City
Remuneration
Apply Online
If your qualifications are a match for this position please apply online for immediate consideration. Thank you for your application.
Position Applying For:
Your Workplace and the Holiday Season
*If you experience trouble submitting your resume' here, please email the recruiter directly, you can find the recruiter's email address next to photo of the recruiter above, or contact your our local office.