What to Avoid When Writing Your Resume
Your resume can be one of two things: a golden ticket to your dream job or a one-way ticket to the recycle bin. The difference can come down to the smallest thing because the person or people reviewing your application materials have only so much time to do so. Here are a few items you should be sure to avoid.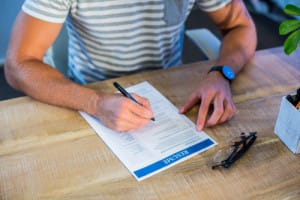 The Personal Stuff
With the exception of an acting or modeling gig, the inclusion of a photograph as well as physical attributes and personal hobbies is unnecessary. Your resume should present a clear and attractive snapshot of who you are as a professional, not what you look like or do in your spare time. The other thing to avoid is being explicit about your age, which can be a problem if you seem either too young and inexperienced or relatively close to retirement from your industry. This may lead the employer to get selective for the wrong reasons.
Incomplete Items
While space economy and brevity are two of the most important attributes of a good resume, detail is still key. It's all about knowing which details are necessary and which are not. For instance, if you have a few experience items to list that apply perfectly to the position you're seeking, don't name the project or your duties without briefly noting its result. If it was a success, say so by giving concrete information on how your efforts benefited the company. On the other hand, leave out the negative stuff and don't mention anything that went awry in your work. Explanations for leaving a position are also ill-advised for this reason.
General Fluff and Filler
Within seconds, the hiring manager should have everything they need and nothing they don't. Requests for references typically won't happen until an interview has been secured, so leave these out and skip the "references available upon request" line as well. The rest is often common sense. Needless social media links, more than one phone number, and outdated or irrelevant experience are all examples of things that will free up space when eliminated. This way you can effectively show what a great candidate you really are!
Writing the perfect resume is just one aspect of your search for a career. Summit Search Group will be there for you every step of the way, so contact one of our offices today to find out what we can do for you!
Job ID
City
Remuneration
Apply Online
If your qualifications are a match for this position please apply online for immediate consideration. Thank you for your application.
Position Applying For:
What to Avoid When Writing Your Resume
*If you experience trouble submitting your resume' here, please email the recruiter directly, you can find the recruiter's email address next to photo of the recruiter above, or contact your our local office.