What Employers Look For Beyond Job Experience
Coming out of college, one of the most frustrating realizations for most recent graduates is just how much their lack of job experience can impact their search for a fulfilling career. After all, most of us are told that our collegiate experience will do wonders in helping us secure meaningful employment.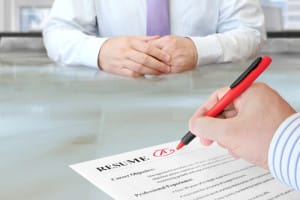 Unfortunately, experience is key to finding work, and spending years dedicated to school can cripple our ability to obtain significant experience during this time in our lives. But fortunately, most employers look for much more than just the most experienced candidate when conducting interviews.
While specific qualification and related experience might be enough to get you into the first round of interviews, it is then up to you to push yourself beyond. If you're curious what skills are most valued, here are a few things most employers look for beyond job experience:
Interpersonal Skills
The ability to cohesively interact with other people is one of the most important skills most recruiters look for in candidates. Solid interpersonal skills help you fit into a team and contribute positively. They are also vital when it comes to satisfying the expectations of customers and clients alike, as well as negotiating, making important business decisions, managing time efficiently, taking responsibility for errors, and delegating effectively to those that end up working underneath you. Being able to empathize with fellow employees and clients will help you build rapport and create a less stressful working environment. 
Critical Thinking
Demonstrating the ability to solve complex organizational problems is a great way to get your foot in the door, and it's vital if you wish to keep your position as well. Most employers value critical thinking skills very highly, and developing these skills is important if you wish to be a contributing member in your new work environment.
Quality decision making and critical thinking require the ability to gather reliable information, evaluate the information for a variety of potential solutions, and select the most appropriate option given the demanded criteria and specific situation. Critical thinkers are also often creative thinkers capable of bringing new perspectives that ultimately benefit the company in many ways. 
Commitment to Personal Development
While employers are looking for passionate individuals with a strong desire to succeed, they also highly value those most interested in learning and developing their skills through the given job opportunity. Being committed to personal development means having the right attitude towards work, as well as the organization you work for. Learning is a lifelong process, and employers that can see your dedication to personal growth are much more likely to reward you with a position that will help you do just that. 
Leadership
Regardless of the specific position you're applying for, most employers are eager to bring on individuals that exhibit leadership skills. Every organization needs people that are capable of influencing others to achieve a specific goal, and most leaders are easily defined by being healthily self-confident. Leaders are also team players that enjoy working in groups to achieve the best results possible, and leaders demonstrate strong social skills that naturally allow them to gain respect and credibility from their peers.
While each specific employer will undoubtedly have their unique criteria, developing these skills will help you find a rewarding job in your field. If you're looking to make a big career move, please don't hesitate to check out some of the amazing opportunities on our website today!
Job ID
City
Remuneration
Apply Online
If your qualifications are a match for this position please apply online for immediate consideration. Thank you for your application.
Position Applying For:
What Employers Look For Beyond Job Experience
*If you experience trouble submitting your resume' here, please email the recruiter directly, you can find the recruiter's email address next to photo of the recruiter above, or contact your our local office.