What Are Young Job Candidates Looking For Today?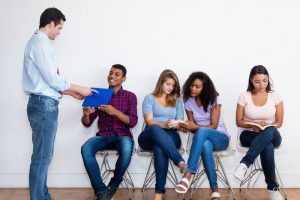 The better a sense you have of what job candidates are looking for today, the more precisely you can shape your recruitment approach. When it comes to those who are in the early stages of their professional development, there are a few things that are particularly important to offer.
Strong Employer Branding
Talented job candidates don't simply think of their careers in terms of the jobs they want. You must cultivate a strong and well-communicated identity as a company so that burgeoning professionals can have a deeper sense of who you are. Whether or not a job seeker connects with or is enticed by the brand you build as an employer will significantly influence the degree of their interest in becoming part of your team. While visibility is integral to this dynamic, it's not the complete story. Everything from the way your company represents itself on social media to the style of its job postings will define this image. Don't take any detail for granted.
Great Company Culture
What are your managerial priorities and philosophies? How do you put them into practice? What are the values that define how you engage with your employees and the ways in which they engage with each other? Job seekers who are at the early stages of their careers today are looking for more than a competitive salary and benefits package. They're looking for a place where they have a strong sense of belonging and a fulfilling compatibility with their professional environment. When you carve out an excellent culture that optimizes employee engagement, performance, and retention, don't forget to make this a component of your employer brand.
A Place to Grow
Most younger job candidates today are looking for a position with long-term job security. Some may be looking for something transitional to fill a gap in their career plan. Others may be independent contractors moving from one client to another. What do they all have in common? They probably want to become better at what they do. Room for growth is important not simply in regards to opportunities for promotion, but also when it comes to the expansion of an employee's capabilities on multiple levels. As an employer, you'll always be rewarded for creating an environment that is stimulating, inspiring, and challenging in the right ways.
When it comes to targeting and drawing in the best talent, never underestimate the importance of an experienced recruitment agency. Summit Search Group is Canada's leading employment firm, and we'll do whatever it takes to help you build an extraordinary team. Contact us today!
Job ID
City
Remuneration
Apply Online
If your qualifications are a match for this position please apply online for immediate consideration. Thank you for your application.
Position Applying For:
What Are Young Job Candidates Looking For Today?
*If you experience trouble submitting your resume' here, please email the recruiter directly, you can find the recruiter's email address next to photo of the recruiter above, or contact your our local office.