Is Twitter an Appropriate Job Search Tool?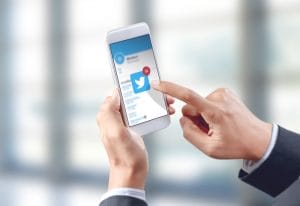 When it comes to social media, the first platform that comes to mind for most job seekers is probably LinkedIn. However, it's not the only one that can improve your search and connect you with creat companies. Twitter, for instance, may be more useful to you than you might think.
Strengths and Weaknesses
The first thing to notice about Twitter is its scale. Canada's Twitter user base is among fastest-growing in the world, and this has drawn more and more companies to the platform to engage with their audiences. It's an excellent opportunity for job seekers to connect with the brands that they're drawn to as professionals, getting an idea of their internal company culture and communication style. Still, it's important to bear in mind that this shouldn't be your go-to platform. It doesn't have the structure that LinkedIn does, or as many features designed specifically for professional networking.
A Few Strategies
Despite its limitations, however, Twitter has plenty of potential if you use it the right way. For instance, you can organize your efforts by using Twitter's "lists" function to compile the companies you follow. As part of your research process, check out which accounts they're following themselves. This will allow you to gain a sense of their network, including the current issues and prominent figures they pay attention to in their industry. You might even stumble upon the profile of someone who has a position there. Don't be afraid to engage with the company's content and participate in discussions.
Avoiding Pitfalls
When using Twitter for professional networking, you should make sure your profile is presentable before following the companies that you're interested in. If you're a longtime Twitter user with some less-than-professional content somewhere in your feed, you may want to consider setting your personal profile to private and starting a secondary one for your professional life. Even if you have a pristine professional account, don't bombard the companies you follow with excessive or invasive engagement. Build your Twitter rapport over time with a natural connection and you'll be on your way!
It's important to be resourceful when you're an employee, but it's just as important when you're a jobseeker. The better you are at choosing and utilizing modern tools, the closer you'll come to getting the position you want. Our job search portal is the perfect example, so give it a try today!
Job ID
City
Remuneration
Apply Online
If your qualifications are a match for this position please apply online for immediate consideration. Thank you for your application.
Position Applying For:
Is Twitter an Appropriate Job Search Tool?
*If you experience trouble submitting your resume' here, please email the recruiter directly, you can find the recruiter's email address next to photo of the recruiter above, or contact your our local office.