Tips for Landing Your Dream Job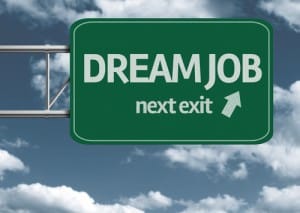 We've all heard that we shoot swing for the fences in trying to land a job that stimulates our passions and truly interests us down to the core. However, this can often be much more easily said than done. Finding your dream job seems like quite a daunting task when you've got no idea where to start.
The reality is that your dream job is really not that far away. We are all capable of manifesting the future that we see in front of us. Some people just need a bit more help and encouragement than others, but finding your dream job is an accomplishable task for everyone.
But, where do you start? Is there a definitive guidebook to help you land the job of your dreams? Unfortunately, the answer to that is no. However, there are a number of small things you can do to move towards a job that is truly exciting and fulfilling.
Here are a few tips designed to help you land your dream job:
Familiarize Yourself With Yourself
What exactly does that mean? You need to know what you're looking for and what you have to offer in order to sell yourself in the best manner possible. Take the time to conduct a self-assessment to become more aware of your values, how you like to work, and what motivates you, aside from money.
Don't Be Deterred By Lack of Experience
Many job listings call for excessive experience in the area of expertise you're looking for. It's easy to be deterred by job listings that require more experience than you have. However, skills and talents can also apply to more specific job responsibilities. If you don't at least send in an application, there's no way you'll ever get the job you're seeking.
Ease Into It
It's often difficult to make a large jump into the career of your dreams. You might need to keep earning your current, steady paycheck while also taking on an internship that is focused in an area that you're more interested in for the long-term. It's imperative that you try new things, but maximizing your risk can also be very smart and valuable.
Any Progress is Good Progress
It's easy to stay in a safe job that doesn't really challenge you or leave you feeling satisfied with what you're doing. In the journey to find your dream job, momentum can be both your greatest friend and your most challenging foe. Making small steps towards the career of your dreams will help you maintain positive inertia and avoid crippling stagnation.
Start Early
The sooner, the better. When you're young you have exponentially more flexibility in trying out different jobs and experimenting with what you're ultimately looking for in a career path. The process to finding what moves you is a lifelong endeavor, but it's much easier while you're still young and free from the responsibilities of parenthood and partnership.
Maintain Realistic Expectations
It can be easy to get ahead of yourself if you're an ambitious young professional. That's not to say you're not destined for and capable of greatness. It is simply to say that managing your expectations is important to help you maintain motivation and drive to find that job that's perfect for you.
No matter what you're looking for, we're all capable of landing our dream job. The aforementioned tips are designed to help you make slow and steady progress towards landing a truly fulfilling career.
Sources
https://career-advice.monster.com/job-search/getting-started/6-tips-for-landing-your-dream-job-hot-jobs/article.aspx
Job ID
City
Remuneration
Apply Online
If your qualifications are a match for this position please apply online for immediate consideration. Thank you for your application.
Position Applying For:
Tips for Landing Your Dream Job
*If you experience trouble submitting your resume' here, please email the recruiter directly, you can find the recruiter's email address next to photo of the recruiter above, or contact your our local office.