The Interview: Structured or Unstructured?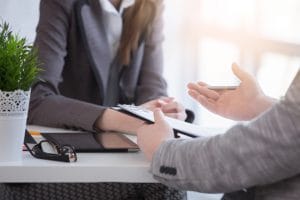 The job interview is a universal component of the recruitment process, but just as no two companies are exactly alike, the variety of interview styles out there is diverse. For example, do you utilize a structured or unstructured interview? Let's look at the differences, pros, and cons.
The Structured Interview
Depending on the types of companies we're talking about, the structured interview will either be the standard go-to or a relic of the past. Either of these characterizations is potentially valid within its own context, but what exactly defines the structured interview in a literal sense? It typically involves a more formal approach designed to acquire more data-based information about your talent pool for a given position. A pre-established, standardized interview procedure is usually conducted and the results per-candidate are analyzed and assessed to find the right fit. Depending on how it is implemented, it will either be exactly what you need or it will fall flat.
The Unstructured Interview
Unlike the structured approach, an unstructured interview is a more informal discussion. It can take a variety of different shapes and follow many different paths depending on the individual nature of the interviewee. Due to this flexibility, it requires a greater degree of intuition on the part of the interviewer so that the necessary information can be gathered on the candidate and a proper assessment can be made. New kinds of corporate culture stemming from tech companies and small businesses have popularized this informal approach, but much like the structured interview, it only works if it's appropriate for your business.
Applying the Theory
The key to implementing these strategies is knowing what they require to be successful. The structured interview will benefit you when the position you're seeking to fill has a very straightforward and relatively fixed set of demands and responsibilities. It will also work best when you gather and apply the data in an efficient and deliberate manner. An unstructured approach, meanwhile, will be most successful when you have a clear and nuanced understanding of your company culture. You can even put together an approach that combines the best parts of both. It's all about knowing the needs and dynamics of your company!
No matter what types of interviews you prefer to implement in your recruitment practices, trying new techniques can offer plenty of pleasant surprises. If you need a local recruitment agency to help you combine best approaches, call a Summit Search Group office in your city today!
Job ID
City
Remuneration
Apply Online
If your qualifications are a match for this position please apply online for immediate consideration. Thank you for your application.
Position Applying For:
The Interview: Structured or Unstructured?
*If you experience trouble submitting your resume' here, please email the recruiter directly, you can find the recruiter's email address next to photo of the recruiter above, or contact your our local office.