Summit Search | How to Get The Most Out of Your Recruitment Agent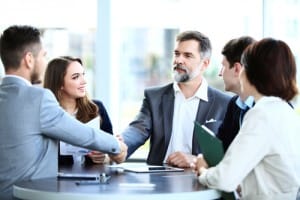 If you're looking for a job in Canada, it can be a challenge to know where to start. There might be a lack of options out there and there might also be too many options for you to choose from. In this regard, you can benefit by getting help from a third party recruitment agent.
Today, there are many different agencies that operate with the singular goal of connecting prospective employees with potential employers. Especially in the larger Canadian markets, it can be difficult to make effective connections without the help of a recruitment agency.
Now, you're probably aware that a recruitment agency can help you gain access to more job listings than you would otherwise find on your own. However, gaining access to an increased number of listings is only the first step.
There are a number of additional ways in which a recruitment agency can help you find a job that's right for you. Here are a few tips designed to help you get the most out of the recruitment agency you choose:
Presentation Is Key
Anytime you're looking for employment, it's essential that you find ways to present yourself in the best light possible. For some of us, this can be a little bit uncomfortable, but you should know that you've got no reason not to sell yourself to the best of your ability.
When it comes to your interaction with a recruitment agent, most agents like to know what qualities they're getting in a candidate before they start talking about jobs. The number of opportunities available to you will either expand or contract based on how your recruitment agent evaluates the skills, knowledge, and experience you bring to the table, so be sure to sell yourself.
Know What You're Looking For
Before you sit down to have a conversation with a recruiter, you need to know exactly what you're looking for. If you fail to define your preferences, it can be easy to be convinced to take a job that you might not be happy with.
Take some time to write down six or seven things you're looking for in a job before sitting down with a recruiter. Your preferences can be anything that really matters to you, including, type of work, managerial level, geography, salary, amount of travel, and a number of other factors.
Be Honest
Keep in mind that a recruiter's job is to place the right people in the right roles. Therefore, it's in their best interest to overcome any objections that your potential employer may have. In order to help your recruiter, it's best not to try to hide any skeletons that might be residing in your closet.
Recruiters are trained to snuff out inaccuracies in your resume or stories of past experience. They handle hundreds, if not thousands, of individuals and you can be sure that they've seen, heard, and dealt with almost every situation imaginable. Don't get caught in a lie with your recruiter, as this will surely compromise your ability to land any job through them in the future.
Maintain The Relationship
As with any relationship, your ties to a recruiter or recruitment agency need to be maintained. Even after you find a job, it's important to maintain a solid working relationship with your recruiter. It takes time to build up trust, and if you ever need another job in the future, it's nice to have a reliable recruiter on your side.
If you're looking for a reputable recruitment agency in your area, please visit Summit Search online or give us a call today at 1-780-497-7667!
Sources
https://www.relaunchyourcareer.co.uk/job-hunting/top-tips-for-getting-the-best-from-a-recruitment-agent/
Job ID
City
Remuneration
Apply Online
If your qualifications are a match for this position please apply online for immediate consideration. Thank you for your application.
Position Applying For:
Summit Search | How to Get The Most Out of Your Recruitment Agent
*If you experience trouble submitting your resume' here, please email the recruiter directly, you can find the recruiter's email address next to photo of the recruiter above, or contact your our local office.