Recruiting the 'Right' People for Your Company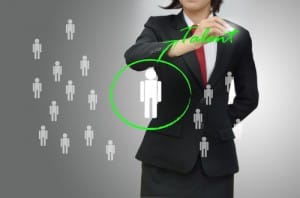 For any company, large or small, one of the most difficult aspects of expansion or continued operations is the recruitment of the right employees. You need to find ways to select individuals that will contribute and raise the overall value of your company.
It is important that your employees remain engaged with your company's short and long-term goals. Identifying qualities that fit with your company's culture will ultimately help you make the best hiring decisions to move your company forward.
Your attention to detail within the hiring process will ultimately determine whether your new hires add value to your company, or detract from your company's overall productivity.
Here are a few simple tips to help you hire the 'right' people for your company:
Look for Passionate Individuals
The first candidate you interview might actually be the most qualified individual for the job. However, regardless of qualifications, an individual who appears lackadaisical or unimpressed by the job you are offering is most likely not the 'right' person for the job.
Hiring individuals who are passionate about your company and its goals will ultimately help your company succeed more so than hiring people who are the most attractive on paper. You will be able to sense an individual's passion for the job as soon as they enter the interview room. Be honest with your own feelings and trust your gut.
Who is the Best Fit for the Position?
To make the best hire, you must first take an in-depth look at the responsibilities and goals for the position you are seeking to fill. If you do not know what you want out of the eventual person you hire, you will not be able to hire the right person for that job.
Fit is everything. While qualifications are important, you ultimately want to hire the person who is best suited to handle the responsibilities and achieve the goals that you have outlined for the position they will be filling.
Don't Place Too Many Limitations on Your Hiring Process
In most cases, an organization won't find their next corporate sales person from a retail store. However, you should never enter the interview process with this mindset. These early expectations can prevent you from eventually hiring the best person for the job.
Remaining open to people who show initiative, exude passion for contributing to your company, and feel like the best fit for your company will ultimately lead to you making the best hire possible.
While your organization might certainly have a traditional hiring process that has been in place for years, these processes can always be redeveloped and refined. Becoming stagnant in your hiring process can result in inadequate hires that compromise the overall productivity of your company.
Change never hurts. This season, take a look at your hiring process and identify some ways in which you could refine and streamline the process in order to hire the best people for your company. In the future, you will be glad that you did!
By Bruce Proctor  Join me on Google+
Job ID
City
Remuneration
Apply Online
If your qualifications are a match for this position please apply online for immediate consideration. Thank you for your application.
Position Applying For:
Recruiting the 'Right' People for Your Company
*If you experience trouble submitting your resume' here, please email the recruiter directly, you can find the recruiter's email address next to photo of the recruiter above, or contact your our local office.