Sourcing New Talent? Be Sure to Reconsider These Common Myths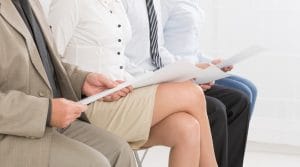 You know your company better than anyone, so you're probably inclined to rely on your instincts when it comes to finding new talent. Ultimately, you're the one who knows what kind of team you need, but there are nonetheless many common recruiting myths you should be aware of!
The Interview is Foolproof
The job interview is one of the most integral elements of the recruitment process. These days, it takes many forms, but the goal is always the same: get a feel for who the candidate is, whether or not they're a good fit for the position, how compatible they are with your company's culture, and more. It's understandable that employers have come to depend on it to create their dream team, but it's also important to remember that candidates don't necessarily show their true colours during this conversation. The key is to constantly reassess and improve your interview approach, no matter how foolproof you may think it is!
Relevant Experience is Everything
As critical as relevant experience is, it's important to avoid the assumption that candidates who don't match up perfectly in this department should go straight to the bottom of the pile. In reality, a potential hire should just as likely be considered based on skills that are universal to a wider range of contexts. For instance, if one candidate has matching experience but seems to lack solid critical thinking or interpersonal skills, you may want to look further into one who has a less convenient experience profile but clearer potential for collaboration and innovation.
The Flawless Candidate Exists
Even if an employer doesn't consciously believe there is a perfect person for the position they need to fill, there may still be a more implicit, underlying hope for a candidate that ticks every single box. The truth is that every employee will have their flaws and will be incompatible with at least one aspect of the position and even the company. However, the hiring of each new talent isn't just the end of one search, it's the beginning of a journey to help them grow and, as a result, help your company do the same!
There are many more recruitment myths out there than we've listed here, but that's no reason to get discouraged from looking for great talent! Businesses all over Canada have entrusted Summit Search Group to help build the right team, so join them by calling  us today!
Job ID
City
Remuneration
Apply Online
If your qualifications are a match for this position please apply online for immediate consideration. Thank you for your application.
Position Applying For:
Sourcing New Talent? Be Sure to Reconsider These Common Myths
*If you experience trouble submitting your resume' here, please email the recruiter directly, you can find the recruiter's email address next to photo of the recruiter above, or contact your our local office.