Social Media in Today's Recruitment Landscape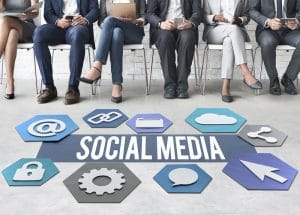 Current web technologies are designed to make all kinds of goals, tasks, and projects more successful. Social media is one of the most important examples of this out there today. If you want to recruit the right talent, there are plenty of ways you can use social media to make it happen.
 Study the Platforms
 Whether it's LinkedIn, Facebook, or Twitter, all of the biggest social media platforms are carefully built to provide an intuitive user experience. However, don't let this fool you. Behind the simple functionality of every social media tool is an expansive variety of features, techniques, and strategies that will take your recruitment methods to another level. This is why it can really pay off to take some time and understand your platforms and their capabilities as deeply as possible. The better you research those capabilities, the more swiftly you'll be able to capitalize on them when you need to address the specific recruitment goals of your company.
 Represent Your Brand and Company Culture
 Social media is all about communicating with your online community. This is true not only in the straightforward sense of connecting with people in writing, but also in terms of communicating the identity of your company. Produce great content, instigate discussions, and build profiles that portray your brand in a way that will attract the talent you need. If a job seeker discovers you via one of your profiles, they should be able to use those profiles as a gateway into understanding what it really feels like to work for your company. They will feel far more confident and informed about whether or not your corporate environment is a place where they can truly thrive.
 Expand Your Reach
 What does it take to get the visibility you need? One factor to consider is the difference between active and passive candidates. Devote sufficient time and effort to finding passive job seekers who aren't necessarily looking for you, and when you reach out, don't copy and paste the same impersonal message to everyone! To draw in active job seekers, remember that the first few lines of info on your company's LinkedIn profile will be the most visible, so this could be a great place to quickly mention that you're hiring. You should also get a sense of what hashtags are trending in your industry. Combine strong branding with diligent engagement and you'll see results!
 Social media is just one of many factors in the modern recruitment world. Summit Search Group is here to help companies just like you utilize the best strategies to find the best talent. Contact a Summit Search office in your city today!
Job ID
City
Remuneration
Apply Online
If your qualifications are a match for this position please apply online for immediate consideration. Thank you for your application.
Position Applying For:
Social Media in Today's Recruitment Landscape
*If you experience trouble submitting your resume' here, please email the recruiter directly, you can find the recruiter's email address next to photo of the recruiter above, or contact your our local office.