Resolutions: How to Set the Right Career Goals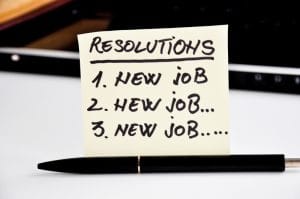 The most successful professionals you know probably have a number of things in common, but one of the most important is that they all know how to set goals for themselves. However, doing so isn't as simple as knowing what you want. It's about clarity, determination, and focus.
Organizing Your Ideas
Success will always be out of reach if you don't recognize the all-encompassing importance of organization. It's not quite enough to have a general sense of what interests you and what kinds of jobs you lean towards. You need to have a clear-cut, structured, and actionable picture of your current skills, the skills you intend to attain and develop, and the professional responsibilities you want to take on in order to thrive. Not only this, but you also need to know how to keep these goals dynamic yet focused, so that you can respond to changing circumstances while still keeping your eye on the ball.
The Importance of Ambition
No matter how talented you are as a candidate, one critical mistake that can land you in a lacklustre position is to sell yourself short. For many professionals, it can be difficult to step outside (or even aspire outside) that cherished comfort zone. There's something very tempting about finding a couple of things that you're good at and sticking to them. However, learning to do this is essential if you want to set and attain the right goals. If you aim for something that matches your skill level but fails to offer you any challenges or room for growth, you'll only extend the distance that exists between you and the seasoned professional you hope to be.
Choosing Your Battles
One of the most important skills you can develop as a candidate is the ability to balance aspiration with practicality. Just as it's ill-advised to sell yourself short and settle for a position you're overqualified for, you should also avoid aiming too far beyond your skill set and experience. The key here is to know yourself as a professional and understand what you're up against. From there you should be able to identify that "Goldilocks zone" where you stand out as exemplary among your competition and aren't aiming too low or too high. This will make your job search just right!
What career goals have you set for yourself for this year? There's no use waiting for them to come to you! The sooner you get started on making your professional dreams a reality, the more rewarding your search will be. Get started with the Summit Search Group job portal today!
Job ID
City
Remuneration
Apply Online
If your qualifications are a match for this position please apply online for immediate consideration. Thank you for your application.
Position Applying For:
Resolutions: How to Set the Right Career Goals
*If you experience trouble submitting your resume' here, please email the recruiter directly, you can find the recruiter's email address next to photo of the recruiter above, or contact your our local office.