Recruiting for Cultural Fit: What It Means and What to Keep in Mind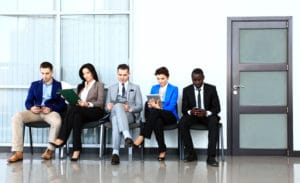 Many things define the identity of your business as a workplace, but few of them are as influential as your company culture. There are a few things you should consider when factoring this principle into your recruitment process.
What Is Cultural Fit?
In a nutshell, prioritizing cultural fit during the recruitment process means that you're placing emphasis on how well the potential hire "fits" into your company culture. Are your candidates' professional philosophies and work ethic in line with that of your business? Do they display a similar demeanor and communication style to those of your best employees? Even if you encounter a candidate who has a multitude of impressive skills and experience, if that supposed dream hire doesn't feel at home and comfortable in the interpersonal environment of your workplace, their productivity and engagement is likely to suffer for it.
How Do You Spot It?
There are a number of ways to determine the cultural fit of the people you have in a given talent pool. You can usually trust your instincts when it comes to that first pass, as a resume, cover letter, or LinkedIn profile can offer plenty of positive or negative indicators towards cultural compatibility. The interview, however, should entail a more involved approach. One good way to make this work is to give the interviewee an opportunity to lead the conversation a little. Allow them to show you what insights are important to them regarding their work, and you'll get a good picture of who they really are and whether or not they'll fit in with your team.
Doing It Right
While it may seem odd to consider, the cultural fit philosophy can display some weaknesses. For one thing, if you depend too heavily upon it as a recruitment tactic, your team could end up hitting a wall in terms of its evolution and sense of challenge as time goes on. If you hire people who are likely to agree with your existing team members too often, you could miss out on healthy competition and incentive between employees, productive reassessment of company philosophy, and diversity of perspective. Strike a balance between compatibility and plurality and it will certainly pay off.
If you seek candidates who display the best skills and closest cultural fit, it's the mission of an experienced employment agency to help make it happen. Get in touch with Calgary's best agency by contacting our office today!
Job ID
City
Remuneration
Apply Online
If your qualifications are a match for this position please apply online for immediate consideration. Thank you for your application.
Position Applying For:
Recruiting for Cultural Fit: What It Means and What to Keep in Mind
*If you experience trouble submitting your resume' here, please email the recruiter directly, you can find the recruiter's email address next to photo of the recruiter above, or contact your our local office.