What Do you Think a Recruiter Looks for in your Next Interview?
Are you looking for the next big step in your career? Are you preparing for a number of interviews with a recruiter in your area? If so, you should be familiar with some of the important things that recruiters look for in an interview!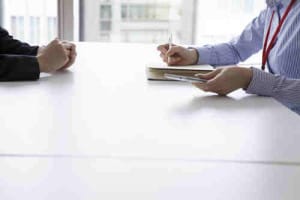 At Summit Search, we provide candidates access to a wide range of career-advancing opportunities throughout Canada. We know it can be hard to find quality employment opportunities and, on the flip side, it can be difficult for companies to find quality candidates. Our job is to bridge the gap so that everyone wins!
If you're lining up a series of meetings with a recruiter in the near future, it might be beneficial to brush up on your interview skills. Here are a few important qualities that most recruiters will look for in your next interview:
The Three C's 
Most recruiters are familiar with the three C's that largely decide your ability to get the kind of job you want and earn the type of money you're looking for. The three C's, when it comes to recruitment, are: contacts, credibility, and competence.
Contacts are important because the more you have, the more likely you are to land a job that you'll love and that will help you advance your career. Surprisingly, more than 85 percent of job openings aren't listed anywhere, which makes them discoverable only through your network of contacts.
Credibility is also essential to finding the job you want because it underscores your larger reputation as an employee. When it comes to securing recommendation and referrals from past employers, your character is often the most important quality that decides whether or not you will receive positive referrals.
Obviously, your level of competence is also extremely important in your ability to secure the type of job you're seeking. To put it simply, you must be good at what you'll be asked to do if you're given the position. As a candidate, it's essential that you continue to advance your competence level throughout your career. 
Three More "In-Demand" Qualities 
Intelligence is arguably one of the best qualities to possess when it comes to landing quality job opportunities. Many studies have shown that 76 percent of an employee's productivity and contribution is determined by his or her intelligence level. In the workplace, intelligence is often taken to signify one's ability to plan, organize, prioritize, and problem solve in the process of ultimately getting the job done.
Leadership ability is also a prized talent when it comes to seeking employment, especially at the management level. Leadership is defined as "the willingness and the desire to accept responsibility for results." Great leaders also avoid making excuses when, and if, their work doesn't live up to accepted standards.
Your personal integrity also plays a role in your ability to secure a job that will contribute to your career path. Integrity starts by being true to yourself. Trying too hard to say what you think a recruiter wants to hear is a tactic that many recruiters can discern very quickly, and it can actually cause your value as a potential employee to fall.
If you're looking for quality career opportunities throughout Canada, please don't hesitate to contact your regional Summit Search recruitment office today!
Job ID
City
Remuneration
Apply Online
If your qualifications are a match for this position please apply online for immediate consideration. Thank you for your application.
Position Applying For:
What Do you Think a Recruiter Looks for in your Next Interview?
*If you experience trouble submitting your resume' here, please email the recruiter directly, you can find the recruiter's email address next to photo of the recruiter above, or contact your our local office.