Performance Reviews: Some Common Myths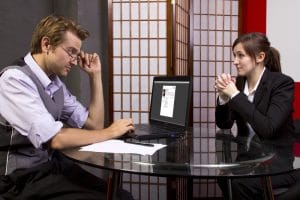 Some employees dread performance reviews, while others crave feedback. Meanwhile, they're one of the sharpest tools in the shed for the average manager. Whether you're an employer or employee, you may want to consider a few of these performance review misconceptions.
Myth 1: It's All About the Negatives
You may be one of many employees who expect a barrage of criticism each time a performance review is imminent, or a manager who focuses a little too much on the negatives without providing constructive feedback. Either way, there's a myth to debunk here. Performance reviews shouldn't be entirely built around pointing out flaws. They're also about highlighting and nurturing strengths so that everyone can move in the right direction.
Myth 2: You Should Defend Yourself
While reviews aren't just about telling an employee everything they do wrong, constructive and accurate criticism is still an indispensable part of the process. It shouldn't be a prompt for defensiveness, but should instead be received gracefully and listened to carefully. Further, a manager should keep in mind that in order for a productive response to happen, that criticism needs to be based on accurate and actionable information, not on arbitrary assumptions!
Myth 3: Once Annually Is Enough
Many of us tend to think of the average performance review as being a once-yearly event. However, employers can benefit from thinking flexibly about this interval. A formal sit-down may not be necessary on a highly frequent basis, but communication and assessment should be a year-round process. Get creative and find ways to highlight aptitudes and address issues through informal conversation and other means.
Myth 4: The Raise Is All You Need
Any truly driven professional loves an opportunity to take on more responsibility and raise one's earnings. There are few things more gratifying than seeing your hard work and development as an employee pay off with growth at your company. Still, this should never allow you to be distracted from the information that the review process is designed to offer you. Feedback can be gold for a dedicated professional, so pay close attention and don't lose sight of its value!
Collaboration and communication are not to be underestimated, and neither is the power of a collaborative job search. If you're looking for that ideal candidate, get in touch with a Summit Search office in your city. On the hunt for your dream job? Try our job search portal today!
Job ID
City
Remuneration
Apply Online
If your qualifications are a match for this position please apply online for immediate consideration. Thank you for your application.
Position Applying For:
Performance Reviews: Some Common Myths
*If you experience trouble submitting your resume' here, please email the recruiter directly, you can find the recruiter's email address next to photo of the recruiter above, or contact your our local office.