New CEO of Pembina Valley Water Cooperative Announced
Summit Search Group is pleased to share the appointment news of Dale Toews an executive search led by Gail Eckert, Director Recruitment.
Providing water to 14 municipalities in southern Manitoba Pembina Valley Water Cooperative, has completed an extensive CEO executive search process led by Summit Search Group which worked closely with the Board of Directors of Pembina Valley Water Cooperative. Dale Toews has been named the new Chief Executive Officer (CEO).
 —
Press release PVWC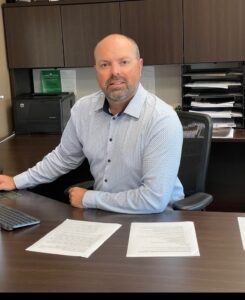 The Pembina Valley Water Coop is pleased to announce that Dale Toews will be the new CEO for the PVWC. Dale will be formally starting this work on October 16th 2023.
Dale has a strong academic background related to municipal administration and is the current CAO for the RM of Stanley, havin
g spent the last 15 years with the Municipality. In this capacity, Dale has demonstrated leadership skills and project management skills, making him an
excellent candidate for this role.
This position became available after Greg Archibald served notice of his retirement at the end of this year and he will be available to help ensure a smooth transition.
The PVWC is owned by 14 member municipalities and provides potable water to about 60,000 people with 3 water plants (Morris, Letellier and Stephenfield). It is a growing region and a potable supply of water is critical.
Given the strategic importance of this position, the PVWC Board engaged the services of Summit Search Group to assist the board executive in conducting an extensive search for the most suitable candidate. As a result of this process Dale Toews was chosen for this position.
Besides the day-to-day operations, Dale will be overseeing the capital projects that are currently underway, such as the new reservoir at the Letellier plant. He will be taking responsibility for the new projects that are slated to start toward the end of year.
The PVWC is looking forward to working with Dale Toews to provide a safe and dependable supply of potable water to a growing region.
For more information contact Don Wiebe, Co-Chair of PVWC, at [email protected] or 204-324-3727.
 —
Summit Search Group worked closely with the Chair and Board of Directors of Pembina Valley Water Cooperative, along with consultations led by Summit Search Group with various stakeholders.
This national executive search is another example of the high-profile C-suite level work Summit Search Group has conducted for more than 20-years. The firm is known for its ability to work effectively with Boards and Selection Committees in creating a proactive search process which creates a diverse slate of well qualified candidate for senior leadership roles.
—
About Summit Search Group
Summit Search Group is a leading national professional recruitment firm committed to helping great employers hire smart, motivated people, while advancing the career objectives of candidates.
Our firm has a long, successful, and proven track record of facilitating search processes for organizations across all industry sectors.  We have deep industry knowledge as well as strong executive search experience. Summit Search Group fosters a collaborative culture that drives positive business results, supported by our national presence and regional expertise across our eight Canadian offices.
We ensure that diversity and inclusion principles are integrated in our approach, addressing the impact of conscious and unconscious bias throughout the recruitment process. We are employer partners of the Canadian Centre for Diversity and Inclusion (CCDI), members of the prestigious 30% Club, and a Partner to Winnipeg's Indigenous Accord.  Learn more at www.summitsearchgroup.com
For any inquiries, please contact Gail Eckert, Director Recruitment at Summit Search Group at [email protected] or (204) 991-9839.
###
For up-to-date information about searches, events and news please followSummit Search Group on Facebook, Twitter, and LinkedIn.
Job ID
City
Remuneration
Apply Online
If your qualifications are a match for this position please apply online for immediate consideration. Thank you for your application.
Position Applying For:
New CEO of Pembina Valley Water Cooperative Announced
*If you experience trouble submitting your resume' here, please email the recruiter directly, you can find the recruiter's email address next to photo of the recruiter above, or contact your our local office.