MY BUSINESS MAGAZINE Feature: Matt Erhard, Professional & Executive Recruiter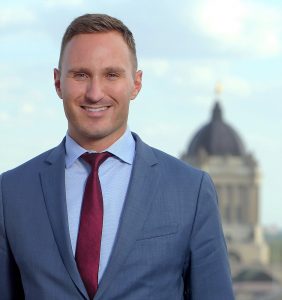 Identifying, attracting, and recruiting top professional talent is one of the biggest and most important challenges facing organizations. Today, the best talent has more options than ever before. Organizations must be strategic to recruit and retain the best people.
Professional Recruiter, Matt Erhard, is passionate about getting the right person in the right role. "There is no better feeling than matching the perfect candidate with the perfect job and then watching both parties flourish. I've seen it happen many times – we've recruited people in a sales roles, who've gone on to be Sales Managers, General Managers and even Business Owners and clients," Matt Erhard, Managing Partner, Summit Search Group says.
Matt always wanted to make a difference in people's lives. As a student at the I.H. Asper School of Business at the University of Manitoba, he helped his fellow students with their resumes. "When I started looking for my own jobs, I found that I really enjoyed the interview process. I often coached friends and fellow students as they prepared for their own interviews," he adds.
Prior to joining Summit, Matt excelled in a variety of technical sales and leadership roles. "Those early jobs reaffirmed that I love working with, helping, and connecting great people."
He joined Summit Search Group in 2013 in an ownership capacity. At Summit Matt provides professional-level recruitment services to organizations in Winnipeg, throughout Manitoba, and across Saskatchewan and North-Western Ontario. He specializes in identifying and recruiting topnotch performers in sales, marketing, operations and management, nonprofit and executive search and has earned a reputation as one of Manitoba's leading recruitment professionals. The company has offices in each province and has national contacts with clients, who like local, regional expertise in each marketplace.
Philosophy & Approach
Companies that rely strictly on posting a job and waiting for a candidate to apply are not necessarily engaging or recruiting top performers, job seekers who can have a significant, positive impact on their business. According to Matt, "This approach only accesses less than 20% of the available talent pool."
With their professional networks, industry connections and customized database of qualified candidates, Summit provides an opportunity for employers and hiring managers to tap into the other 80%, the talent pool they wouldn't otherwise access. "I'm positively relentless until I can make the right match," he adds.
Summit Search Group's approach relies on:
• access to candidates who are not necessarily seeking new opportunities
• a network of internal, nationwide recruitment experts
• deep industry knowledge of all practice areas in recruitment and talent engagement
• extensive market research on both recruitment trends and job seekers
• open and frequent dialogue with clients & candidates
• harnessing the power of the latest technology
Long-term relationships are important and Matt loves getting to know the client, their culture, and their business. He also loves going out in the field and visiting clients in their own environments. "We act as true partners to our clients and as an extension to their team and are committed to really getting to know our clients' businesses inside and out," Matt explains.
"This involves face-to-face meetings in their offices, experiencing their business culture first-hand, meeting their staff and hiring managers, touring their facilities, learning about their future growth plans and discussing what projects the candidate will be working on. This is the foundation for our solid reputation for developing a deep understanding of our clients' needs, enabling us to match the right candidate to our clients' business needs."
Summit can be involved in every step of the recruitment and hiring process. For example, Summit Recruiters are available to sit in on client-candidate interviews, develop interview questions, establish a recruitment evaluation matrix, check references, conduct background checks, and help with tabling the right (competitive) offer to the final candidate. After the candidate is in the position, Summit follows up to identify any issues before they become problems, and if requested, will broker a discussion to resolve them. 
Although there are many qualified candidates for every given role, only one aspirant will be successful. "It's important for us to manage candidate expectations and if they are unsuccessful in landing the position, work with them on any areas of improvement," he says.
Having said that, Matt goes out of his way to make a positive difference in every interaction whether by keeping candidates informed of future opportunities that might be a good fit, giving feedback on their interview performance, helping improve their resumes, and even accompanying them to networking events. "This just makes sense – a candidate today, could be, and might well be, a client tomorrow," he adds.
Does this approach work? The number of 5-star Google reviews from candidates and employers alike certainly suggests it does. One satisfied candidate says, "Overall, Matt with Summit Search Group did a great job finding a match for my skill set and what I was looking for in a company. He took the time to interview me and find out what I was really looking for beyond just a job. I didn't feel like he was trying to change me in any way to just make it work. He listened to what I needed and pushed towards a goal he felt met my needs…I'm hoping he did such a fabulous job that I won't need his services again."
A VP at a client Marketing Agency says, "Summit Search Group continues to be a valuable contributor to the growth of the team. We have worked closely with them on several key searches and, every time, they've provided us with a pool of candidates that has exceeded our expectations! They are a collaborative, comprehensive and insightful group of recruiters who are very easy to work with."
One of the reasons Matt and the other members of the Summit team are so successful is that they follow American finance author and investor, Guy Kawasaki's, sage advice, "Do what you love and the money will follow.
That explains why the team spends more time focusing on servicing clients and candidates and less on fees and metrics.
Up Close & Personal
Growing up, Matt was always very active and was heavily involved in the sport of swimming. He volunteered at many Canada Summer Games and the Olympics in Athens, Greece in 2004 – and today, does a lot of recruiting in the sport industry and the nonprofit sectors.
He also believes in giving back to the community that has been so good to him and his family. In 2010 Matt was recognized by the Winnipeg Chamber of Commerce as Volunteer of the Year and in 2015 was a CBC Manitoba Future 40 Finalist.
For the last ten years or so, Matt has been a board member and past chair of KidSport Winnipeg (www.kidsport.ca). The national not-for-profit provides financial assistance to kids who want to participate in sport. Last year, Matt raised over $200,000 through Winnipeg Jets', Mark Scheifele's, Golf Classic.
Matt has also been involved in various other non-profit organizations including participating in Fast Pitch at The Winnipeg Foundation(www.wpgfdn.org), President of the Future Leaders of Manitoba Council (www.futureleadersofmanitoba.ca), the Vice-Chair of the Exchange District BIZ (www.exchangedistrict.org) and Board Director of the Whiteshell Advisory Board.
Matt is married and just had a baby girl a couple of months ago. The couple travels to France to visit grandparents and cousins on a regular basis and are planning a family trip to Mexico in February 2020. They have two dogs (both rescues) one of whom has a very important job as a therapy dog and goes to the airport and to seniors residences to offer therapy and support.
As a last word, Matt says, "With unemployment at its lowest rate in years, it is more challenging than ever to reach top talent. New technologies, big data, and access to candidate information are revolutionizing the recruiting world. Personalizing the recruitment process to ensure the right fit is more important than ever before. My role is just that. It's about one company, one person, and one purpose – to find the best candidates for our clients."
This article was originally published by MY BUSINESS MAGAZINE
About the author
Suzen Fromstein is  the author of Suits and Ladders, Ten Proven Ways to Keep Your Job Safe – with a few jokes thrown in. Suits and Ladders was an Amazon Best Selling Book in the Career Guides C .
Job ID
City
Remuneration
Apply Online
If your qualifications are a match for this position please apply online for immediate consideration. Thank you for your application.
Position Applying For:
MY BUSINESS MAGAZINE Feature: Matt Erhard, Professional & Executive Recruiter
*If you experience trouble submitting your resume' here, please email the recruiter directly, you can find the recruiter's email address next to photo of the recruiter above, or contact your our local office.