Managerial Tips to Keep Your Team Strong
The strength of a group of employees depends on a many key dynamics. While our blog on company morale addressed an important component of this strength, it's also useful to think in more general terms. Here are a few ways you can improve the overall integrity of your team.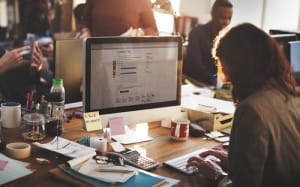 Know Your Team Members
There's probably a lot you know about each of your employees in terms of their skills and professional history, but how well do you understand their motivations and what drives them? Of all aspects of the work that your company does, what do they show particular interest in? Know the strengths of each of your employees, find out what roles they hope to fill in the long term, then help them get there!
Encourage Creative Thinking
It's only natural that your company holds certain conventions for its workflow. After all, a system that is too loose is unlikely to be an effective one. However, this doesn't mean that you should completely rule out creative or unconventional approaches to tasks, projects, and problems. Too many workplaces stifle out-of-the box ideas rather than encouraging and rewarding good lateral thinking. The more perspectives your employees can see their work from, the better.
Motivate on Multiple Scales
The principle of motivation works on a few different scales. For instance, you can motivate employees within their own responsibilities and tasks as relevant to their component of your company, but you should also make it clear what the business as a whole hopes to achieve in the long term. Once everyone's goals are in line and you have both of these bases covered with smart incentives, you're on your way to stronger collaboration.
It Starts at the Hiring Process
The best teams are truly effective because they've been assembled with the right recruitment strategies from the very beginning. If the dynamic of your company is in need of improvement, a good place to start is to assess the way you seek out your talent. Always remember that even if a candidate has the impressive skills and experience, if they don't mesh with your team and your company culture, you'll face more difficulties in keeping your team strong down the line!
Is your workplace as strong as it can be, or are you missing someone? Summit Search Group can connect you with the talent that is right for your company and its culture. Contact one of our local offices today to get started!
Job ID
City
Remuneration
Apply Online
If your qualifications are a match for this position please apply online for immediate consideration. Thank you for your application.
Position Applying For:
Managerial Tips to Keep Your Team Strong
*If you experience trouble submitting your resume' here, please email the recruiter directly, you can find the recruiter's email address next to photo of the recruiter above, or contact your our local office.