Making it Work: Construction Recruitment & Retention in a Tight Market
Article reposted with permission from We Build Magazine – Saskatchewan Construction Association.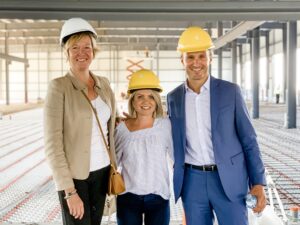 As employers across all industries grapple with labour shortages, many are opting for new perks and benefits to attract and retain talent. Work from home, hybrid working arrangements and four-day workweeks are being offered by organizations to woo potential employees and keep existing staff engaged and happy. However, some industries – like con­struction – can't do work from home or hybrid work for much of their staff. Buildings and infrastructure can't be constructed in home offices or at kitchen tables. As well, four-day workweeks can be difficult to manage in a project-driven environment that relies on hitting milestones on time and on budget. How can construction companies compete in such a tight labour market?
Finding the right people
Before the discussion of perks even starts, companies must make sure their job opportunities are hitting the right people.
"We're in a competitive labour market across sectors;· said Matt Erhard, partner at Summit Search Group. "The first step is ensuring your company's jobs are being seen by the people you want to hire"
Because many on-site construction staff are not at a com­puter during the day, the first challenge is getting your message out where it can be found.
"Unlike office staff, tradespeople and site staff aren't in front of computers for large parts of the day;· he said. "You have to put your advertising where potential hires will see it"
Taking the time to place your job posting where it will be seen is your first priority. Beyond the traditional online job sites and your own website, ads on social media and websites where your target employees frequent is a start. Employers are also embracing traditional methods like radio ads and billboards to be seen.
Hiring also needs to be timely. Long waits between applying and being hired lead to losing prospects to competitors. "We have seen one company institute a policy where there can't be more than 10 days between an application and an offer," said Erhard. "The market today needs human resources to move fast".
Employer of choice
Once you've got your job opportunities in the right spot, you have to make sure people see your company as a place they want to apply. "We're finding that companies who handled COVID-19 well, whether it was through consistent work. good human resources, and being flexible with staff. are doing better in recruitment;· said Erhard. "The same is true for retention. The better organizations managed in the pandemic, the easier time they are having in the labour market".
Being an employer of choice is key for retention. Half the battle is finding employees. the other half is keeping them. Compensation is integral to retaining employees – raises are often a reason people depart.
"Increasing salaries for talent is often vital for retention. It can be difficult for smaller companies, but even the goodwill of smaller raises [combined with] appreciation or other perks makes a difference" said Erhard.
Perk up
While working at home or hybrid work may not be possible for construction staff, flexibility can be. The pandemic has shown the workforce how flexible work can be, and people have paid attention.
Construction sites can get creative with work/life balance. "For example, perhaps your organization can allow staff to start a little later to accommodate school drop-off for parents, or time to dash out for an appointment during the workday;· said Erhard. "Many times it's the little things that make people feel appreciated and keep them engaged'.'
Traditional benefits can be strengthened, too, to help employ­ees stay.
"Improving your RRSP program, adding more perks to health benefits or increasing vacation time are great retention tools;· said Erhard. "As well, showing appreciation can do a lot when it comes to retention. A mix of both can go a long way'.'
He also suggests company events to socialize can make a big difference.
"Something as simple as a team lunch can make your team feel recognized. The same goes for events for your team and their families. like a picnic;· said Erhard. "Getting people together outside of the worksite to engage and socialize instills that feel­ ing of 'family'."
Growing together
The final step in good recruitment and retention is giving staff the opportunity to grow in your company. Performance plans that include career paths with skill building and growth are vital. Prospective employees who are interested in building a career need to know it's possible in your organization. and the same is true for existing staff.
"People who want to rise have to see a path, and see them­ selves on it;' said Erhard. "That is also key for building diversity in the workplace. Prospects need to feel they have a place in your organization and can grow".
Job ID
City
Remuneration
Apply Online
If your qualifications are a match for this position please apply online for immediate consideration. Thank you for your application.
Position Applying For:
Making it Work: Construction Recruitment & Retention in a Tight Market
*If you experience trouble submitting your resume' here, please email the recruiter directly, you can find the recruiter's email address next to photo of the recruiter above, or contact your our local office.