Job Seekers: How Are Your Communication Skills?
"Good communication skills required." You've probably seen this on nearly every job posting you've come across, and for good reason! However, saying that you have these skills is one thing. Delivering on your promise is something else entirely.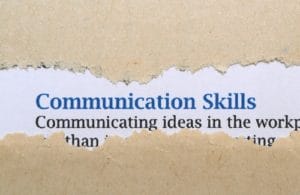 Common Interaction
Basic communication skills are the ones we take for granted, often making them the trickiest to get right. Rule number one is to listen. You can be as articulate as you want, but it won't do much good if you don't approach your superiors and colleagues with open ears and your full attention. Don't just wait for your turn to speak, engage in a mutual dialogue! When you do speak, be concise and avoid repeating yourself unless emphasis is truly necessary. Use your vocabulary effectively without reaching for uncommon words just to sound sophisticated. Last but not least, be conscientious about your body language. Your eye contact and mannerisms should convey an attentive and approachable demeanor.
Conflict Resolution and Problem Solving
In any workplace, there are problems to be solved and compromises to be made. You'll get the best results if you're able to navigate a difficult situation with tact, reason, and respect. It's critical to be absolutely certain you know and understand the opposing point of view before you can criticize it or try to meet halfway. Instead of jumping to conclusions, ask questions and gain a clearer assessment of the situation from all sides. These interactions are a necessary element of collaboration, so it should be treated as such. Keep in mind that every exchange of words should work towards resolution and be as productive as possible.
A New Kind of Communication
These days, communication goes far beyond what happens in person. Everything from your resume to your LinkedIn profile and social media feeds contribute to how you communicate your skills, personality, and principles. Consider your online presence as an extension of your communication with others in professional settings, particularly during your job search. It's a new kind of first impression, so use it to present yourself as positively and concisely as possible, just as you would in person. If you can cover these aspects of communication, you're on your way to impressing recruiters and standing out from the others!
Looking to put your communication skills to the test? There are recruiters out there looking for you and your best abilities, so get started at the Summit Search job portal today!
Job ID
City
Remuneration
Apply Online
If your qualifications are a match for this position please apply online for immediate consideration. Thank you for your application.
Position Applying For:
Job Seekers: How Are Your Communication Skills?
*If you experience trouble submitting your resume' here, please email the recruiter directly, you can find the recruiter's email address next to photo of the recruiter above, or contact your our local office.