Is Your LinkedIn Profile Lacking Visual Content?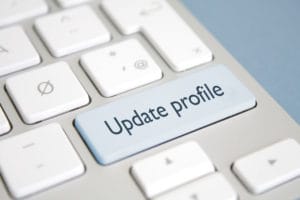 Some job seekers might see LinkedIn as merely a glorified resume and networking tool. If you think of it in these limited terms, however, you'll only be limiting the success of your job search! Visual content is one way you can take things to a higher level.
Why It's Necessary
If it ain't broke, don't fix it, right? Wrong! Even if you have a well-written profile, writing can only get you so far. Content is now as diverse and eye-catching as ever, so you're in competition with job seekers whose profiles make strategic use of rich visual information. If you don't keep up, you'll probably be left in the dust. The other important thing to keep in mind is blogging and content culture at large. A truly good website can't go without good content, so there are certain expectations that recruiters will have about how you brand yourself. Great use of visual media can help you to meet and even exceed those expectations.
What You Can Do
The first visual base you should have covered (other than your profile photo, obviously) is your background photo. Choose wisely, as it should set the tone for your visual brand in a professional way. Secondly, every piece of content you write, whether you're using the Publisher platform or linking an RSS feed, should be accompanied with relevant images. Infographics are good for articulating concepts visually. Be sure that links to external articles are accompanied by images too! Thirdly, explore the possibilities of features like SlideShare and video. If you have a lot to say and produce your content well, it will add a whole new layer of legitimacy to your brand as a candidate.
Things to Avoid
Always be sure to stay away from generating visual content that doesn't serve an explicit and useful purpose. Employers can tell when you're being flashy just for its own sake. You may be moved aside in favour of someone else. It's about quality, not quantity! The same goes for the actual resolution and creative quality of the images themselves. Few things scream "don't hire me" more than pixelated or boring graphics. Last but not least, keep your visual content relevant, on-brand, and appropriate for the platform at hand.
Summit Search Group is the Calgary employment agency that can lead you to your dream job. Enhancing your LinkedIn profile is only one part of the journey! Get started by using our job search portal today!
Job ID
City
Remuneration
Apply Online
If your qualifications are a match for this position please apply online for immediate consideration. Thank you for your application.
Position Applying For:
Is Your LinkedIn Profile Lacking Visual Content?
*If you experience trouble submitting your resume' here, please email the recruiter directly, you can find the recruiter's email address next to photo of the recruiter above, or contact your our local office.