Industry Spotlight: Recruiting in Manufacturing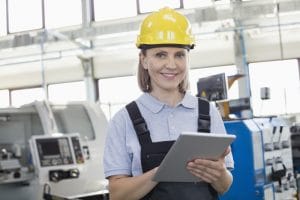 Last week's Industry Spotlight article ran through a few aspects of recruitment in the construction industry. On a similar note, manufacturing executives might want to know what they should keep in mind when it comes to recruiting in their field. Let's look at three key points.
The Image Problem
It may not be easy to admit, but manufacturing is one of many blue collar industries that suffers from negative perceptions among young professionals. Like construction, it is also subject to a skilled worker shortage, which can make it difficult to develop the team you need. Manufacturing comprises more than 10% of Canada's total GDP, translating to about 1.7 million jobs, and those jobs need to be held by a new generation as time moves forward. Perform an overhaul of your employer brand, modernize your search with tools like social media, and develop a company culture that is attractive to fresh manufacturing talent.
Apprenticeships and Training
Another key to addressing the generational issue lies in education. Highly influential companies like Lockheed Martin have headed initiatives to design new manufacturing curricula for postsecondary learning institutions. The importance of apprenticeships has also never been more more apparent, with many businesses bolstering early skill development by exposing high school students to the inner workings of modern manufacturing. Always bear in mind the institutions and programs in your area that serve as hubs for new manufacturing recruits. It's also incredibly important to revamp your training infrastructure to optimize retention.
Evolving Priorities
With so many new technologies and methods, the manufacturing landscape is becoming exponentially more sophisticated on a technical level. Workers need a wider range of skill sets than ever before, including competency with software-based tools, so it's wise to consider the balance between skill and talent. Look for recruits who don't just fulfill straightforward requirements in terms of technical skill, but who also possess strong transferrable aptitudes like critical thinking and problem solving. Combined with computer skills, these are in higher and higher demand, and this evolution is essential to keep in mind.
Smart recruitment strategies are the backbone of a strong company, and this is true regardless of what industry your business operates in. Our agency combines a wealth of recruiting experience across many sectors, so contact the Summit Search Group office in your city today!
Job ID
City
Remuneration
Apply Online
If your qualifications are a match for this position please apply online for immediate consideration. Thank you for your application.
Position Applying For:
Industry Spotlight: Recruiting in Manufacturing
*If you experience trouble submitting your resume' here, please email the recruiter directly, you can find the recruiter's email address next to photo of the recruiter above, or contact your our local office.