How Writing a Blog Can Help Your Job Search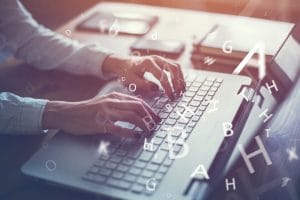 Standing out from the other job seekers in your field isn't always easy. However, building a distinct employee brand for yourself can be a highly rewarding process both professionally and creatively. A blog, for instance, can really let your individuality as a candidate shine through.
Knowledge and Experience
The great thing about a blog is that the job seeker writing it can either be a seasoned expert or a recent grad and it will be just as useful in both circumstances. If you're just starting out and trying to make a name for yourself, research your field and use your blog to show potential employers how passionate you are about your path. If you've accumulated a lot of firsthand experience and knowledge, use your blog to show potential employers just how much skill and savvy you're capable of putting into practice.
Quality Over Quantity
One of the most important ground rules for writing a blog is to maintain a careful and intelligent balance between quality and quantity of content. You don't want to overload your readers with too much information too often at the risk of being redundant, but you also don't want your posts to fall short in terms of volume and frequency. If your industry and profession entail a lot of dense information, the blog can double as an exercise for you to develop a more concise communication style, which can really come in handy in the process of applying for new positions, whether it's your cover letter or an interview.
Dos and Don'ts
Your blog will work for you if you get it right and work completely against you if you don't. For instance, never write about specific negative experiences you've had with former employers. Gossip shouldn't be a part of your content. Instead, discuss trending topics regarding corporate culture in your industry. Another thing to be mindful of is your style and tone. Write confidently but with a friendly and engaging approach. Don't convey the sense that you think you're better than everyone else, just allow your informed, personal take on the topics to communicate a strong and unique professional identity!
What creative steps are you taking to make yourself a more desirable job candidate? There are more possibilities out there than ever, but don't forget the importance of searching through the right channels. Try Summit Search Groups job search portal to get off on the right foot!
Job ID
City
Remuneration
Apply Online
If your qualifications are a match for this position please apply online for immediate consideration. Thank you for your application.
Position Applying For:
How Writing a Blog Can Help Your Job Search
*If you experience trouble submitting your resume' here, please email the recruiter directly, you can find the recruiter's email address next to photo of the recruiter above, or contact your our local office.