How to Make Yourself Stand Out as a Candidate
Searching for a job tends to be a very competitive process, no matter what field you're in. As a result, it's in your best interests to distinguish yourself and be recognized! Here are a few ways you can avoid blending in with the crowd.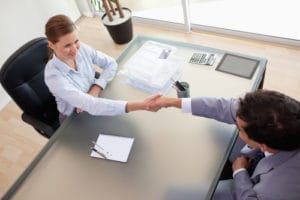 Explore Your Resources
During your job search, take every opportunity you can to recognize and bear in mind what connections and access points you have to a given establishment or community. Whether it's a LinkedIn recommendation or through a colleague, friend, or family member, knowing someone on the inside can make all the difference. When recruiters are going through hundreds of applications, you will immediately stand out if you have a solid referral.
Be Truthful
In a competitive world, many job seekers are prone to bend the truth a bit in their favour. Displaying honesty and integrity will convey a strong sense of character that some others may lack. For instance, if you've been fired from a previous position and an interviewer wishes to know why, demonstrate to them that you recognize and understand the mistakes that you made. It's highly important for them to know that you've learned and grown from them as a result!
Showcase Your Ideas
If you're at the interview stage, this is one of the best moments you have for distinguishing yourself. If you're done your research (which you always should), you can outline ideas that you would pursue if hired and explain how they could improve the company. Most importantly, you should go into every interview having a deep and detailed understanding of your own creative and vocational philosophies. Whether it concerns workflow, corporate culture, or other aspects of being an employee, knowing what you believe will convey individuality, confidence, and ambition.
Brand Yourself
Your image as a candidate goes far beyond your resume and cover letter. You should always treat every step of your career as a factor in how you brand yourself in the professional world. Aside from your strongest skills and specialties, remember that building a history of productive and enjoyable relationships with your employers, coworkers, and members of the community is a big part of your brand. Therefore it's what will draw attention to you as an applicant!
Looking for a great employment agency in Calgary? Summit Search Group can take your job search to the next level. Head over to our Job Search portal to get started!
Job ID
City
Remuneration
Apply Online
If your qualifications are a match for this position please apply online for immediate consideration. Thank you for your application.
Position Applying For:
How to Make Yourself Stand Out as a Candidate
*If you experience trouble submitting your resume' here, please email the recruiter directly, you can find the recruiter's email address next to photo of the recruiter above, or contact your our local office.