How Has Technology Shaped Recruitment?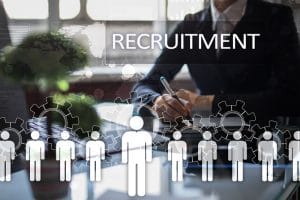 Each time a new year comes, it's hard not to be reminded of the far-reaching effects that technology has had on our day-to-day lives. However, it hasn't only made it easier for us to find cat videos or order pizza—it's redefined much of the recruitment process. Here's how.
Data-Driven Strategies
There was once a time when gathering bulk amounts of information on qualified candidates required meticulous wading through stacks of printed information stored in drawers and cabinets. While recruitment still certainly involves its fair share of that bygone technology we call paper, those who are at the forefront of tech-based recruitment practices are often neck-deep in data. Now that so much information on professionals exists in the form of profiles on sites like LinkedIn and Indeed, data-driven recruitment aims to comb through this data and structure it in a way that brings the most relevant and promising job seekers out of obscurity and to the top of your list.
Employee and Employer Branding
As long as the job search has existed, employers and employees have benefitted from carving out an identity based on their unique values, attributes, and more. However, the advent of technology and web culture has led to a massive expansion of how both companies and candidates present and promote themselves. We understand this today as the principle of employee and employer branding. With social media and other technologies, you now have more tools at your fingertips than ever before, not only for developing a personal brand that will draw ideal candidates to you, but also for gaining a sense of each potential recruit based on how they brand themselves. Take advantage of these resources whenever you can.
Broadening Your Options
There's no denying that web technology has forged greater interconnectedness between people. Whether it's between different geographical locations or different communities and industries, a full command of today's recruitment tech tools allows you to bridge virtually any gap and connect with candidates you would never have known about otherwise. Discovering promising job seekers regardless of location is easier than ever, remote interviews are increasingly standard, and collaboration with savvy recruitment agencies allows you to benefit from sophisticated, widespread networking technique. The sky's the limit!
How do you use technology to enhance your recruitment practices? All of the best recruiters in the world have a powerful command over the latest tools and techniques, and Summit Search Group is one of them. Get in touch with a Summit Search office in your city to get started today!
Job ID
City
Remuneration
Apply Online
If your qualifications are a match for this position please apply online for immediate consideration. Thank you for your application.
Position Applying For:
How Has Technology Shaped Recruitment?
*If you experience trouble submitting your resume' here, please email the recruiter directly, you can find the recruiter's email address next to photo of the recruiter above, or contact your our local office.