Finding Quality in Quantity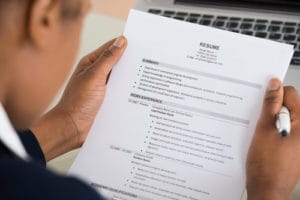 The right resume is essentially a needle in a needle stack.
The Internet has revolutionized modern life. We shop for clothes on Amazon, watch movies on Netflix, and buy groceries, all from the comfort of our couch. However, this same level of convenience doesn't always translate to processes that require more refinement, such as hiring employees. In fact, after posting a job opening on Indeed or LinkedIn, many companies receive as many as 200 resumes in the first hour. In these cases, the Internet can actually make things worse.
Finding quality candidates among the quantities of applications most online job postings receive is difficult for several reasons. According to ERE Media's Recruiting Intelligence blog, job posting site Monster receives 427,000 resumes every week. On average, each posting receives 250 responses. The right resume is essentially a needle in a needle stack.
What's more, online job advertisements are designed to attract only one kind of candidate: active job seekers. In other words, these candidates are mostly dissatisfied with their current position.
The age of "post and pray" is done. Here are two things companies should be doing to find qualified candidates (if they are not already).
Let the Professionals Handle It – Hire a Recruitment Agency
The biggest difference in recruitment strategies between professional agencies and companies is that companies look for applicants while agencies look for candidates. Recruitment agencies don't cast a lure and wait for bites, they actively explore a given industry looking for its top talent. According to Jobvite's 2015 "The Recruiter Nation Survey," recruiting agencies are much more diligent in their search for the perfect candidate because they implement a variety of strategies that rarely depend on online replies. (However, most are also well-versed in social media and such other networking applications.) Over half of the survey's respondents cited "lack of skilled or qualified talent" as a "key stumbling block" to finding the right candidate in today's job market. Additionally, 95 percent agreed the market is only going to get more competitive. Hiring an agency is a simple solution for companies struggling to find the right stuff.
Lean on Referrals
A study from NorthCoast 99 found that one of the top recruiting tools for employers, not using a recruitment agency, is employee referrals. Anecdotal evidence from the study suggests the strongest referral sources are likely to be top employees within the company recruiting. The report found that "most (top employers) say the best sources of talent are their top performers, who tend to refer higher quality employees."
Ultimately, trying to cherry pick candidates from a stack of resumes is not an effective way to identify talent. Instead, effective companies listen to their top employees or hire recruitment professionals. They employ strategy and take the search seriously.
Job ID
City
Remuneration
Apply Online
If your qualifications are a match for this position please apply online for immediate consideration. Thank you for your application.
Position Applying For:
Finding Quality in Quantity
*If you experience trouble submitting your resume' here, please email the recruiter directly, you can find the recruiter's email address next to photo of the recruiter above, or contact your our local office.