Essential Tips for a Great Interview
In the hunt for your dream job, first impressions are everything. A face-to-face chat with a recruitment manager is your golden opportunity to sell yourself as the ideal candidate. These tips will give you a good idea of how to approach this conversation.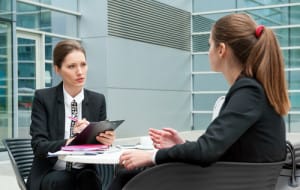 The Basics
As we explained in our blog on dress codes, looking the part is certainly important, but there's more to it than that. Firstly, the interview doesn't start when you've arrived at the meeting, it begins when you're making arrangements to meet! You should maintain the same kind of positivity in communications prior to the interview that you would at the interview itself.
Arrive early (about fifteen to twenty minutes) and greet the recruiter with a firm handshake, eye contact, and a sincere, confident disposition. During the conversation, it's too common for candidates to aim for a false sense of cleverness. If you're asked what your strongest weakness is, don't sidestep the question by responding that you "work too hard." Be honest while providing a moderate example that won't harm your eligibility!
A Step Further
You've probably researched the basic principles and functions of the company, but have you gone much further than that? These days, there's more to a business than their "About Us" page. The presence of an enterprise expands to their social media strategy, the blog they may have on their site, and more.
Take some time to know the details and you just might find a specific talking point that becomes relevant in the course of the interview. This will demonstrate your attentiveness to detail and your passion for the company! Just as you'll do your research on them, they will certainly do their research on you. A cleanup of your social media presence using tools like Social Sweeper may be a good idea.
Core Principles
While general advice can indeed be useful, never forget that all businesses are unique and circumstances can always surprise you. In the case that certain techniques don't apply, it's wise to stick to the fundamental principles that all recruitment scenarios do have in common. Make your skills known without excessive boasting, stay succinct and to the point, and ensure that you exude a genuine sense of enthusiasm and passion for the position!
Are you looking forward to landing an interview with your ideal employer? It all starts with a search! Head to our job search portal and submit a resume today!
Job ID
City
Remuneration
Apply Online
If your qualifications are a match for this position please apply online for immediate consideration. Thank you for your application.
Position Applying For:
Essential Tips for a Great Interview
*If you experience trouble submitting your resume' here, please email the recruiter directly, you can find the recruiter's email address next to photo of the recruiter above, or contact your our local office.