Employers – Make Your Office More Productive
As an employer, it's always important to be searching for new ways to improve efficiency and productivity in the workplace. Getting the most out of each and every employee is vital to your company's success, but over time, many employees fall into dangerously stagnant ruts.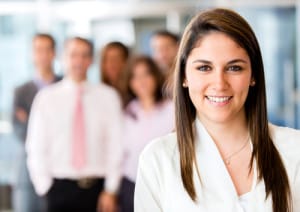 At Summit Search, we pride ourselves on connecting qualified candidates with some of the best organizations across Canada. Once your employees are in the door, however, it's up to you to maximize their unique talents.
Keeping your office environment healthy and productive is often a matter of understanding your employees' individual needs. If your workspace has been feeling a bit dull and dreary lately, here are a few quick suggestions that will help increase productivity in your office:
Finding a Balance
Privacy is obviously important when trying to keep employees focused during the day. However, the cubicle model comes with its' downsides as well. According to Janet Pogue, a principle at a Washington D.C.-based global design and architecture firm, "Having seated privacy is not a bad thing, but there are ways that you can do that without being boxed in from every side."
While you shouldn't try to redesign your entire workspace, a few small changes here and there could be beneficial. The name of the game is functionality, and you have to balance areas that have the tools your employees need to do their job with more comfortable spaces where your employees can grab their laptops and break away from their desks for a while. 
Considering Lighting
Sometimes, there can be such thing as too much light in your workspace. Obviously you don't want your employees falling asleep at their desks, but desk lighting can be much friendlier than bright, fluorescent overheads. Too much light in the office can result in eyestrain and uncomfortable migraines that will slow your employees down considerably. 
No Noise Isn't Always Good Noise
Believe it or not, your office can be too quiet for your own good. Of course, too much distracting noise will compromise your employee's productivity, but a little music can go a long way towards keeping things fun and constructive in the workplace. Spend some time researching the different "colors" associated with music to choose what you feel is best for your office and your employees. 
Facilitating Employee Interactions
Nobody likes working in solitude for an entire day. From time to time, it can be incredibly beneficial to get up and interact with the other employees in your office. As a manager, you can facilitate these types of interactions by creating common areas where employees can gather for brief breaks throughout the day.
Your goal is to create opportunities for "serendipitous" interactions between employees that may otherwise never cross paths during the course of a typical workday. A great example of this is Steve Jobs' placement of Pixar's single bathroom in the center of the building. If your office is rather sizable, with many different departments, encouraging employees to frequent a central location will create the types of "spontaneous interactions" that keep your employees stimulated and motivated throughout the day.
At Summit Search, we're here to help your company find high quality employees that will become productive, contributing members of your team. The aforementioned suggestions are just a few creative ways in which you can improve productivity in your office.
Job ID
City
Remuneration
Apply Online
If your qualifications are a match for this position please apply online for immediate consideration. Thank you for your application.
Position Applying For:
Employers – Make Your Office More Productive
*If you experience trouble submitting your resume' here, please email the recruiter directly, you can find the recruiter's email address next to photo of the recruiter above, or contact your our local office.