Why Do Employees Quit Their Job?
If your company is having trouble retaining employees, you might be doing a few things incorrectly. As an organization, you may sometimes be forced to assess your internal practices to promote a higher rate of employee retention.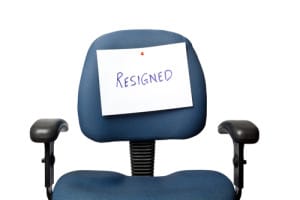 It's essential that you see a quality return on the investments of time and money that you make into new employees. If you're interested in keeping the employees that you've worked hard to recruit, you should surely pay attention to these important reasons why many employees quit their jobs:
Employee-Manager Relationship 
While employees and their bosses don't need to be the best of friends, it's important to foster a healthy working relationship. Because employees typically deal with their boss on a daily basis, an uncomfortable relationship can quickly become a stressful part of their daily lives. If this stress becomes too much, the employee is more likely to move on.
As a manager, the boss is responsible for providing direction and feedback, as well as dedicating time to working one-on-one with certain employees. In most cases, the boss also connects high-achieving employees underneath him or her to others higher up in the organization. A bad relationship with a boss is the number one reason why employees ultimately choose to quit their job. 
Feeling Unchallenged or Under-Utilized 
As an employee, it's tough to simply get out of bed in the morning if you already know you will be bored and unchallenged by the work you do throughout the day. Employees need to be continuously challenged so that they continue to grow and increase their ability to contribute positively in the workplace.
Most of your employees spend more than one-third of their days working, getting ready for work, and in transit to and from work. Bosses should work closely with employees to make sure they are engaged and excited to contribute their talents to the organization. 
Relationships with Co-Workers 
A particularly hostile relationship with a co-worker is another huge reason why many employees quit their jobs. Studies have shown that employee happiness increases significantly when the employee is close friends with one or more employees in their office.
If your organization is based on employee cooperation and cohesiveness, it's important to recognize the interpersonal relationships between your employees. Because employees interact, brainstorm, and collaborate with one another on a daily basis, the relationships between co-workers ultimately play a large role in employee satisfaction and retention. 
Lack of Opportunities to Succeed 
At the end of the day, every employee wants to feel a sense of pride or accomplishment in the work that they're doing. This gives them the self-confidence to perform positively when their next opportunity comes around.
Employees that feel like they aren't being utilized to their full capabilities are likely to feel disenfranchised. As an organization, it's important to recognize your employee's unique skills and talents in order to utilize them to the fullest extent.
If you're looking for a position with a high quality company that knows how to treat its' employees right, be sure to check out some of the opportunities available through Summit Search today!
Job ID
City
Remuneration
Apply Online
If your qualifications are a match for this position please apply online for immediate consideration. Thank you for your application.
Position Applying For:
Why Do Employees Quit Their Job?
*If you experience trouble submitting your resume' here, please email the recruiter directly, you can find the recruiter's email address next to photo of the recruiter above, or contact your our local office.