Doug Palson – appointed Chief of Police of MFNPS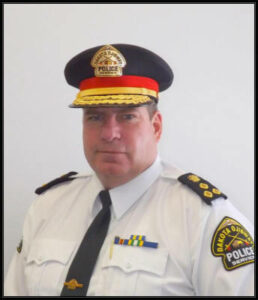 We are pleased to announce that Doug Palson has been appointed as Chief of Police for the Manitoba First Nations Police Service (MFNPS).  Doug previously spent 8 years with the Manitoba First Nations Police Service, known then as the Dakota Ojibway Police Service. Most recently, Doug comes from the Dryden Police Service in Ontario where he was Chief of Police since 2015.
"I am very excited and grateful for the opportunity to assume this leadership role with the Manitoba First Nations Police Service. I look forward to working closely with MFNPS members, the Commission and the communities, with a focus on building relationships and developing partnerships in efforts to enhance community safety and wellbeing." stated Palson in a press release.
For more information on this appointment please see the official announcement here.
MFNPS has a goal to position itself as the police service of choice to First Nations seeking alternatives in policing.  As one of the longest operating First Nation Police Services in Canada, MFNPS is a recognized self-administered police agency located in Southern Manitoba, providing policing services to 8 First Nation Communities.
For more information about the MFNPS please visit mfnp.ca
About Summit Search Group
Summit Search Group is a leading national professional recruitment firm committed to helping great employers hire smart, motivated people, while advancing the career objectives of candidates.
Our firm has a long, successful, and proven track record of facilitating search processes for organizations across all industry sectors.  We have deep industry knowledge as well as strong executive search experience. Summit Search Group fosters a collaborative culture that drives positive business results, supported by our national presence and regional expertise across our eight Canadian offices.
We ensure that diversity and inclusion principles are integrated in our approach, addressing the impact of conscious and unconscious bias throughout the recruitment process. We are employer partners of the Canadian Centre for Diversity and Inclusion (CCDI), members of the prestigious 30% Club, and a Partner to Winnipeg's Indigenous Accord.  Learn more at www.summitsearchgroup.com
###
For up-to-date information about searches, events and news please follow Summit Search Group on Facebook, Twitter, and LinkedIn.
Job ID
City
Remuneration
Apply Online
If your qualifications are a match for this position please apply online for immediate consideration. Thank you for your application.
Position Applying For:
Doug Palson – appointed Chief of Police of MFNPS
*If you experience trouble submitting your resume' here, please email the recruiter directly, you can find the recruiter's email address next to photo of the recruiter above, or contact your our local office.