Does Your Company's Branding Affect Recruitment?
It's probably pretty routine for you to focus on how your branding strategy affects business, not to mention the way your company is perceived by the public. Is it equally as important to think about branding when it comes to attracting talent? Let's find out.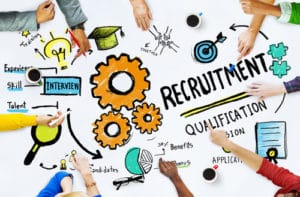 A Different Kind of Competition
As a company operating in a free market economy, you're in competition with those who offer similar services or goods as you. This is a pretty obvious idea, but did you know it also applies within the context of recruitment? You're in competition with those same companies to attract the best talent and build the perfect group of employees. Every aspect of how your company performs and how consistently it will grow depends on one thing: that quality of your team! Naturally, it follows that you should approach the branding of yourself as an employer with as much thought and effort as the branding strategy you utilize for your client demographic.
Employer Image in a Modern Era
It was only a few decades ago that the first impression made on a candidate would be your booth at a career fair. These days, chances are pretty good that a potential hire has already absorbed a lot of information about your company long before you ever shake hands. This is true not only in terms of information gathered intentionally by research, but also the overall impression that the candidate gets of your philosophy and corporate culture from how you advertise, engage on social media platforms like LinkedIn, and more. There are a wide range of factors at play, so make sure you have your bases covered!
How to Get It Right
It's important to view this as an ongoing process. Even if you know which candidates aren't right for your company, your interactions with them will still contribute to your employer brand. Any candidate you engage with will likely give their opinion on your company to their fellow job seekers and professionals. Make competitive offers, communicate with transparency and sincerity, and make it clear that working for your company is a unique, rewarding, and inspiring experience. If job seekers feel that you truly have what they want and need, successful recruitment and retention will be that much easier!
Is your employer brand as strong as ever? Put it to the test and get in touch with a Summit Search Group office in your city today!
Job ID
City
Remuneration
Apply Online
If your qualifications are a match for this position please apply online for immediate consideration. Thank you for your application.
Position Applying For:
Does Your Company's Branding Affect Recruitment?
*If you experience trouble submitting your resume' here, please email the recruiter directly, you can find the recruiter's email address next to photo of the recruiter above, or contact your our local office.