Do You Have a Good Work Ethic?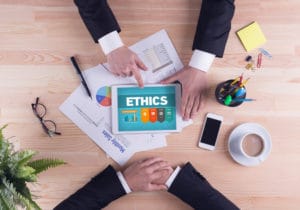 During the process of an interview, you're asked questions that are designed to ascertain a number of things about you as a professional. One key element is your work ethic. So what exactly does it mean and how do you set yourself up for success?
Examining It
At first glance, work ethic is about your ability to sustain focus, determination, and consistent productivity in your job. Going deeper, however, it's about more than this. Your work ethic is influenced by your personal beliefs regarding your industry and your position, your relationships with colleagues and superiors, the overall state of your mind and body, and more. A more dated philosophy might insist that the harder you work, the better your work ethic. Many of today's employers, on the other hand, are finding that it pays off to recognize the importance of effectively balancing high productivity with side-activities and taking care of yourself.
Improving It
If your work ethic could use some sharpening, there are plenty of approaches for improvement. Think of this process as habit-building. It's often a matter of locking yourself into the right combinations of habits and inclinations that allow you to get things done. Start off each day with a reliable rhythm of simple tasks like waking up on time, making the bed, and putting together a healthy breakfast. The better you are at establishing strong patterns, the more momentum you'll have during your workday. A consistent and plentiful sleep schedule, as well as regular exercise and a balanced diet, will also provide you with an optimal amount of energy and presence of mind for each day.
Applying It
Examine your workplace relationships and your own sense of engagement. Do you have fulfilling, respectful, and professional working dynamics with those around you? The less you enjoy your workplace, the lower the quality and consistency of your work is prone to be. If there is a certain task that you are dreading, build a reward system for yourself that will incentivise you. Don't forget that brief, frequent breaks with physical activity will keep your mind alert and engaged. This is why it's common to see things like ping-pong tables in startup offices. Understand yourself, take care of yourself, and appreciate the importance of hard work!
What better way to apply that work ethic than to start searching for your dream job? Summit Search Group is the Calgary employment agency that will give you the tools realize your aspirations. Use our job search portal today!
Job ID
City
Remuneration
Apply Online
If your qualifications are a match for this position please apply online for immediate consideration. Thank you for your application.
Position Applying For:
Do You Have a Good Work Ethic?
*If you experience trouble submitting your resume' here, please email the recruiter directly, you can find the recruiter's email address next to photo of the recruiter above, or contact your our local office.