Coping with Rejection During your Job Hunt
When looking for a new job, it's easy to become frustrated if you don't get results you desire within a reasonable period of time. If your job hunt drags on for several months, it becomes harder and harder to deal with recurring rejection.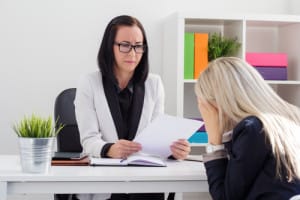 You've sent out hundreds of resumes, and you may have even secured a few interviews, but you're starting to realize that something needs to change. If you're feeling a bit upset about your lack of results, here are a few tips to help you cope with rejection during your job hunt:
Head to the Gym For Some Exercise
When dealing with rejection during your job search, it can be easy to bolt yourself inside and remain plugged into your computer or phone, searching for every new opportunity that arises. While it's important to be diligent, you also need to give yourself a break every now and then. Your energy levels may not feel particularly high after you've been rejected, but you'll be surprised by how much better you'll feel after even a few brief minutes of exercise.
According to Richard Deems, co-author of Make Job Loss Work For You, "It takes about 20 minutes of exercise for the endorphins to start being released in your body." Endorphins naturally help your body fight pain and reduce stress. Raising your activity level will help you clear your head, expend some physical energy, and feel recharged to tackle the next opportunity.
Get Into the Great Outdoors
Getting into nature is always a great way to regain some perspective. When you're dealing with rejection, your path can feel clogged with obstacles and your destination can appear to be light-years away. Heading into the mountains, the desert, or over to the ocean is a great way to remind yourself of the immense natural beauty that exists in the world. Your job search will seem much less important all of a sudden, and clearing your head in the outdoors always helps to provide the clarity you need to dive back into your job hunt when you return home.
Seek Feedback
Whether it's in regards to your resume or your interview skills, it's always useful to get a little constructive feedback. Although many employers will shy away from providing direct feedback during a formal interview, there's little harm in requesting feedback after you've learned you didn't get the job.
It's important to remember that you might not like what you hear at first, but you need to keep everything in perspective. Having an interviewer point out your flaws will help you recognize them, which is the first step in finding a path that leads to a more successful result the next time around.
Avoid Dwelling in the Past and Strive to Move Forward with Positive Intent
When you're confronted with continuous rejection, it's easy to dwell on all the mistakes you've made along the way. While it's important to reflect on your past experiences if you wish to learn from them, dwelling too much in the past can prevent you from moving forward successfully.
If you want to ultimately find success in your job hunt, you have to remain positive and set an intention for finding a new job. Be aware of your past mistakes, but don't let them hold you back from securing the valuable position you deserve in the future. There's a company out there that can utilize your skills, and sometimes it's simply a matter of being in the right place at the right time.
At Summit Search, we connect well-qualified candidates with career advancing job opportunities throughout Canada. If you're looking for a lucrative new position anywhere in Canada, please don't hesitate to check out our database today!
Job ID
City
Remuneration
Apply Online
If your qualifications are a match for this position please apply online for immediate consideration. Thank you for your application.
Position Applying For:
Coping with Rejection During your Job Hunt
*If you experience trouble submitting your resume' here, please email the recruiter directly, you can find the recruiter's email address next to photo of the recruiter above, or contact your our local office.