How Contract Positions Can Be a Career Booster
While there is always pressure to secure a full-time position with benefits, most people don't realize the value of temporary, or contract, positions. In fact, a consistent history of temporary work can be comparable to full time experience in the eyes of many senior hiring managers.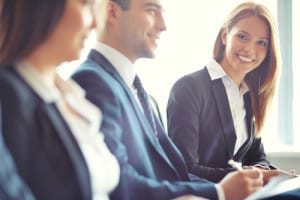 Contract positions can serve to teach you a diverse variety of skills that you wouldn't otherwise acquire if you're holding down a full-time, permanent position. As a young business professional, temp jobs can give you exposure to new industries and work environments that will teach you valuable lessons.
Additionally, the flexibility necessary to work in many temporary positions can be a quite desirable trait for prospective employers. Instead of getting upset about their inability to find a permanent position, temp workers should revel in the variety of work environments they're able to learn from, which will help them for a very unique and valuable skillset.
Most temp workers don't realize the long-term value of their position and, thus, don't do what's necessary to take advantage of their situation. If you want to make the most of your temporary, or contract, work position, be sure to consider the following tips for boosting your career:
Don't Be Afraid to Ask for More Work 
One of the fastest and easiest ways to start being noticed is a willingness to help out in any way possible around the workplace. Especially if you've already completed the assignment you've been given, don't hesitate to ask for more work. Don't waste your time waiting for more work to fall in your lap when you could be seizing opportunity by the horns! 
Always Be on the Lookout for New Experiences 
Whenever you're asking your boss for more work, keep your eye out for projects or tasks in a new field that you haven't has experience with yet. Developing a unique variety of skills will ultimately help you market yourself more successfully when meeting with prospective employers in the future. 
Don't Be Shy About Asking for Help 
Many of us are quick to make this mistake. We find ourselves stuck, but instead of asking for help, we trudge on, with no knowledge to guide us, and we end up turning in an unsatisfactory project or completing a task incorrectly. Whenever you're in doubt, don't be afraid to ask for assistance. 
Socialize with your Coworkers 
Every work opportunity you secure is an opportunity to network with coworkers, managers, and clients. You never know when a connection you make at a temporary job will help you land the job of your dreams in the future. 
Take your Assignments Seriously 
Just because you know that you're working on a temporary basis doesn't give you the excuse to produce low-quality products for your temporary employer. Odds are that you'll rely on a boss from a previous temp position to help you secure a permanent, full-time job elsewhere in the future, so it pays to take every assignment seriously and do the best job possible. 
If you're undervaluing your temporary work position, these tips should help you realize the long-term value of temporary, or contract, work. Each and every one of your temporary jobs will ultimately serve as a stepping-stone to the full-time career that lies ahead.
Job ID
City
Remuneration
Apply Online
If your qualifications are a match for this position please apply online for immediate consideration. Thank you for your application.
Position Applying For:
How Contract Positions Can Be a Career Booster
*If you experience trouble submitting your resume' here, please email the recruiter directly, you can find the recruiter's email address next to photo of the recruiter above, or contact your our local office.