Common Mistakes you Could Be Making on your Resume
When was the last time you revised your resume? Do you know if you're making any of the most common, and crippling, resume mistakes? Tailoring a stellar resume can be much more difficult than most people imagine, and avoiding common mistakes is essential.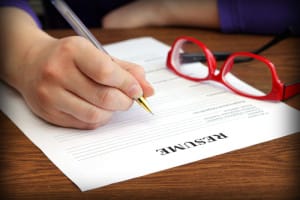 Being on the job hunt can be a very stressful time, regardless of whether you're just starting out in your desired industry or you're looking to take the next step in an already established career. As you might imagine, having an eye-catching resume will be beneficial either way.
While most of us probably sat in a resume-building course at some point in our educational careers, the top techniques for constructing a solid resume are constantly in flux. If you're working on your own resume and you're looking for some tips, here are a few simple, but common, mistakes you should be careful to avoid:
Misspelled Words and Grammatical Errors
Although this seems very much like common sense, you'd be surprised how many hiring managers see resumes riddled with typos and incorrect grammar. You've probably spent hours staring at your resume, editing, revising, and editing some more, so you might think there's no way you've missed anything.
Oddly enough, the longer you stare at your resume the more it can start to look like a foreign language and the easier it becomes to miss errors in spelling and grammar. The best way to ensure that you don't have any spelling or grammar errors on your resume is to have it critiqued by another set of eyes. 
Blasting your Resume Out in Mass
This often feels like the easiest way to get your name out there and maximize your chances for finding a new job, but email blasting your resume to hundreds of employers at once actually makes it appears as though you care very little about the specific jobs you're applying for.
Hiring managers will see that you haven't made an effort to tailor your resume to the specific job in question, and they'll have difficulty believing you'll make the effort to succeed if hired. Even if you feel that your resume closely fits the unique jobs you're applying for, you can benefit from taking a few moments to make sure it fits the given job description as closely as possible. 
Ignoring Important Keywords
Nowadays, most resumes are reviewed electronically before they're eventually perused by a set of human eyes. This process uses hiring software to spot important keywords, and if you neglect the inclusion of these keywords, your resume may not get past the first round of screening to be seen by an actual human at all.
Although you can usually find important keywords in the job description, they typically won't be specifically labeled. It will be up to you to pick them out, but doing so isn't generally too difficult. Look for the handful of words that are repeated occasionally. These words will also apply to the industry you're applying for, so taking the time to pick them out and include them in your resume will help you show the employer you have a vested interest. 
At Summit Search, we connect qualified employees with some of the most renowned employers throughout Canada. Please don't be afraid to visit our website to explore some of the career advancement opportunities available near you today!
Job ID
City
Remuneration
Apply Online
If your qualifications are a match for this position please apply online for immediate consideration. Thank you for your application.
Position Applying For:
Common Mistakes you Could Be Making on your Resume
*If you experience trouble submitting your resume' here, please email the recruiter directly, you can find the recruiter's email address next to photo of the recruiter above, or contact your our local office.