What a Calgary Sales Recruiter Can Learn From your Voice
When interviewing for a sales position, your voice is ultimately very important. After all, it is one of the chief tools you'll use to secure commission in the future. That being said, many employees underestimate the power of their voice when meeting with a Calgary sales recruiter.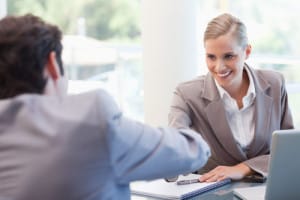 At Summit Search, we strive to connect sales recruiter with qualified employees that have sufficient sales experience. If you've worked in sales in the past, you know how important it is to be strong with your voice when delivering your sales pitch.
Your Ability to Command Authority 
Your voice can largely impact the attention that you command with your sales pitch. A recent study of presidential candidates suggested that more voters identified with the candidate that exhibited the deeper, more authoritative voice.
Your Level of Assertiveness and Certainty 
Nothing makes a recruiter lose attention quicker than a series of distracted "ums" or "ahs". When meeting with a recruiter, he or she will learn a lot from the assertive and certain nature of your speech. Even if you have to verbally ask for a second to collect your thoughts, this is a better alternative than struggling through "ums" or "likes" until you eventually come to a conclusive statement.
The Pitch of your Voice 
Most sales recruiters prefer a firm, strong, but not overly pushy tone when searching to fill a sales position. When someone is nervous in an interview, the tendency can be to elevate the tone of his or her voice, otherwise known as "up talk."
Using a high-pitched voice in an interview with a sales recruiter can say a lot about your ability to stay calm and deliver a sales pitch with confidence. Using a high-pitched voice or falling into "up talk" isn't the most effective way to impress a Calgary sales recruiter.
Level of Strain 
When conducting an interview with a Calgary sales recruiter, he or she will be able to detect the level of strain required for you to answer interview questions. Rough, weak, or strained answers will give off a negative, passive, or tense impression.
On the other hand, if you can slow down your breathing and speak in a confident, "normal" voice, you're more likely to be perceived as successful, sexy, sociable, smart, and, perhaps most importantly, qualified for the position.
The Importance of Breath Support 
Perhaps the most important factor that goes into a strong and dynamic sales voice is breath control. Many people underestimate the power of breath when it comes to delivering a quality sales pitch. If you're not breathing properly, you'll begin to strain your voice in an attempt to keep your tone, which will ultimately render your sales pitch less effective.
If you're interested in meeting with a Calgary sales recruiter to discuss the possibility of a sales position in the area, be sure to check out the Summit Search job listings in your area today!
Job ID
City
Remuneration
Apply Online
If your qualifications are a match for this position please apply online for immediate consideration. Thank you for your application.
Position Applying For:
What a Calgary Sales Recruiter Can Learn From your Voice
*If you experience trouble submitting your resume' here, please email the recruiter directly, you can find the recruiter's email address next to photo of the recruiter above, or contact your our local office.