Business Professional vs. Business Casual Dress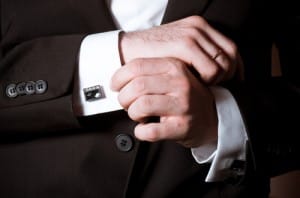 When it comes to appropriate attire, it can be tricky to know what is the best thing to wear for an interview. Even once you've officially been hired it can be tough to know how to dress for a conservative company versus a place where things are a bit more laid back.
As if to increase the confusion, certain organizations might have different standards for what constitutes particular types of attire. What is considered "business professional" at a tech startup company could be perceived as "business casual" at a financial institution.
If you're about to go in for an interview, or you've just been hired and you're preparing for your first day of work, here are a few tips that we hope will help you decide on the appropriate attire:
For Interviews 
Whenever you're preparing for a first-time interview, it's always better to be overdressed than to be underdressed. Even if you walk in the door to find that most of the employees at that organization dress fairly casually, you should own your attire choice.
Remember that YOU are the one who is looking for a job. You're not necessarily being compared against existing employees at that company. Instead, you will be compared against other candidates and, as such, you should be sure to always wear professional attire to an interview. 
Once You've Been Offered a Position 
If your interview goes exceptionally well, and the company decides to offer you the position, this is a perfectly acceptable time to inquire as to the appropriate attire for work at that company. Be sure to ask your would-be supervisor if there are any unwritten rules of the company's dress code that you should be aware of as well.
If your new company's verbal or written dress code is rather vague, it's always smart to err on the side of caution, even if that means slightly overdressing for your first week of work. Pay close attention to those around you to pick up the nuances of finer company norms and expectations.
For many managers, dress code violations can be stressful to enforce on a regular basis. If you see a wide range of different attire choices all around your new office, it's best to go with a more conservative look, at least until you feel a bit more comfortable. 
Casual Days 
If you work at a company that typically requires that you wear "business professional" attire to work everyday, you might not get too many chances to "dress down." However, many organizations have a limited number of casual dress days throughout the year. In this case, it's important to remember that "business casual" is usually just one step below "business professional."
For example, if "business professional" is defined as a suit for both men and women at your organization, acceptable "business casual" attire may be dress pants or skirts, for women, without a jacket or tie, for men. If "business professional" means nice pants, but not a suit, at your company, then "business casual" could be khakis and a polo, or a casual skirt for women.
If you are unsure about what constitutes acceptable attire, the key is just to ASK! If you don't get a chance to ask before making your decision on what to wear in the morning, always err on the side of caution to make sure that you don't violate your company's dress code!
Job ID
City
Remuneration
Apply Online
If your qualifications are a match for this position please apply online for immediate consideration. Thank you for your application.
Position Applying For:
Business Professional vs. Business Casual Dress
*If you experience trouble submitting your resume' here, please email the recruiter directly, you can find the recruiter's email address next to photo of the recruiter above, or contact your our local office.