A Few Company Morale Mistakes You Might Be Making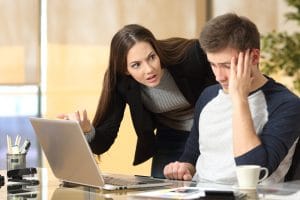 Workplace morale is one of the most critical components of operating a successful business and getting the best possible performance from your talent. Many employers, however, make mistakes that can undermine the integrity of the team. Are you guilty of any of our examples?
You and Your Employees
Honesty and transparency play a big role in the workplace. If your employees feel that you operate in the shadows and don't respect their need for an open and approachable working relationship, they're not going to put 110% into their work. Honesty also means accepting and being accountable for mistakes rather than loading all the blame onto those who work for you. Lastly, don't forget that the goals and expectations you set should be reasonable and reflect a detailed understanding of your team's strengths.
Peer Relationships
Morale isn't just about what happens directly between you and your subordinates. Some employers may fail to consider the complex effects that management style can have on the professional dynamics between their employees. For instance, if you make a habit of reprimanding specific individuals by name and in front of others, this can really throw a wrench into trust, confidence, and respect between everyone who is present, and even those who aren't. The same effect can occur if you neglect to issue praise when it's warranted, or show excessive favouritism. Don't underestimate the power you have over how your team members perceive one another.
Communication and Consistency
No matter what angle you look at your workplace from, good communication is paramount to healthy and productive morale. The same can be said for knowing your own management habits and distributing your criticism, praise, or delegation as consistently as you can. Making vague or impulsive delegations that lack clarity or feel unpredictable to your staff will easily take a toll on the overall strength of the team. And of course, never forget how important it is to listen to your employees. If they know their contribution is respected, they'll work harder towards a better future for both themselves and your company.
Company morale problems can get out of hand before you know it, but there's always a way to bounce back. Don't forget that smart recruitment plays a key role in this too! If you want to continue building your team the right way, contact a Summit Search office in your city today.
Job ID
City
Remuneration
Apply Online
If your qualifications are a match for this position please apply online for immediate consideration. Thank you for your application.
Position Applying For:
A Few Company Morale Mistakes You Might Be Making
*If you experience trouble submitting your resume' here, please email the recruiter directly, you can find the recruiter's email address next to photo of the recruiter above, or contact your our local office.