3 Ways to Enhance Your Employer Brand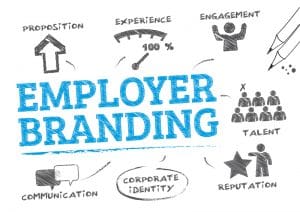 As an employer or recruiter, you know that good candidates present themselves in a way that demonstrates their fitness for the position you're trying to fill. However, you're probably also aware that how you present yourself to candidates is important too. Here are three key tips.
Refine Your Online Presence
One of the most crucial aspects of employer branding today is how you're perceived online. This doesn't just mean your company's website, it means every platform you use to put your brand out there, whether it's LinkedIn, Twitter, or Google My Business. Build a top-notch social media strategy that highlights the unique voice of your brand and the attributes of your communication style. Make sure that a representative is responding to feedback on review sites, both good and bad. The more present you are as a brand online, and the more attractive that presence is, the more effectively you'll attract the talent you want.
Be Aware of the Candidate Experience
The people who come in contact with your company, to whatever degree and in whatever form, should have a positive and memorable experience. This is true whether you're talking about recruits or potential and established customers. In this regard, sometimes it can be useful to think of candidates as though they're leads and clients. Think about the first impression and how things develop from there. A candidate's discovery of you may be through a job posting, so you'd need to be sure that the posting fully reflects the larger experience of your brand. This is true of the interview, too!
Demonstrate a Focus on CSR
One observation that is being made more generally about young professionals today is that they place a relatively high degree of importance on CSR. This is your company's sense of corporate social responsibility. It's been shown that many millennial job seekers will even accept a slightly lower-paying job if they know that they connect with the ethics of their employers. You don't want to be in a position where you're expecting a highly desirable recruit to put a price on their principles. Carve out a socially responsible philosophy and set of practices for your company so that you can draw great people to your team.
Is your company attracting the best professionals in your field? Accomplishing this may seem like a daunting task, but it's much easier when you fully capitalize on the resources available to you. Contact a Summit Search Group office near you to connect with great candidates today!
Job ID
City
Remuneration
Apply Online
If your qualifications are a match for this position please apply online for immediate consideration. Thank you for your application.
Position Applying For:
3 Ways to Enhance Your Employer Brand
*If you experience trouble submitting your resume' here, please email the recruiter directly, you can find the recruiter's email address next to photo of the recruiter above, or contact your our local office.