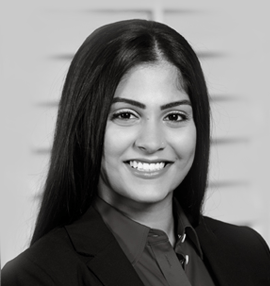 Aman Sodi
Director, Recruitment
Aman brings drive, determination and focus to her role at Summit Search Group. Throughout her 8+ year career with Summit Search Group, Aman has had the opportunity to partner with a wide array of clients ranging from publicly traded to privately owned family businesses and public sector clients. Aman is often retained on hard-to-fill searches that require heavy research and mapping out the market, networking and headhunting. Aman takes pride in advising her clients on the most up-to-date market data and intelligence.
Aman's dedication coupled with her strong work ethic have been influential in her success. She has a strong commitment to the service that she provides to clients and candidates and has a talent for naturally connecting with people. Aman thoroughly probes to understand the goals of the client and candidate, allowing her to achieve a perfect match.
As a graduate of the well-recognized York University Human Resources program and earned an Honours Bachelor of Human Resources Management.
Having visited Thailand, India, Costa Rica, Italy, Switzerland to name just a few destinations, Aman is an avid learner with a strong appetite and affinity for experiencing new cultures and foods.