Reporting directly to the President & CFO, EVP, Head of Finance will manage a team of ~50 and a corporate group of over 20 entities (various geographies) and provide leadership for the company's financial accounting function, the integrity of accounting systems, corporate budgeting, management control/financial management, treasury, audit and tax. You will lead the accounting function of the business and will oversee the implementation of operating systems.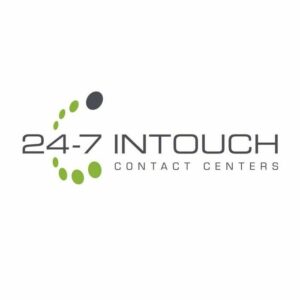 About 24-7 Intouch
About 24-7 Intouch 24-7 Intouch is a global customer care and technology company. With over 20 years of experience, 18,000+ team members, and campuses around the globe, we're obsessed with providing remarkable customer experiences for the world's most innovative brands.
For more on our culture, follow the link to Our Story – https://youtu.be/a6CvsUKYN8g
Essential Functions
You will provide direction and advice to ensure overall value-maximizing for corporate and shareholders' benefit and oversight of financial and corporate reporting, intercompany transactions, and tax planning and compliance.
You will be actively involved in the development and execution of the company's strategy by preparing materials for quarterly board meetings and monthly discussions with owners (including private equity).
You will track expenses and revenues vs. budget information to re-forecast and analyze fluctuations. Develop, maintain, and distribute ad-hoc reports and financial models as needed. Ensure all activities of the department are in accordance with standards and that accounting records are maintained accurately and in compliance with laws and regulations.
You will control and evaluate the organization's corporate finance strategy and capital structure to use equity and leverage effectively to fund growth objectives.
You will support merger and acquisition activity including assessing, structuring, and financing opportunities, together with the corporate development arm of the company.
You will work with and lead the team to improve processes and systems, including automation, to improve reporting timelines and accuracy as well as improving the controls around the processes and procedures in place.
You Will Be Successful In This Role If…
You are a leader in a visionary finance role that operates internationally with senior level finance skills and exceptional business acumen
You have a measurable track record of success with a growth-oriented company and finance leadership experience: Relevant finance leadership experience in a company that has undergone considerable growth.
You're a team builder: Demonstrated experience managing and building a highly productive finance team (with both global and regional elements).
You're a collaborator: Embrace working cross-functionally, breaking silos.
You have strong communication skills: Ability to present and share insight to different stakeholder groups in a concise and effective way. Stakeholder groups including owners, lenders, customers, vendors, etc.
You're an innovative EVP with Deep expertise across multiple performance channels with the ability to improve automation of systems/processes to streamline reporting. Ability to collaborate across functions to improve forecasting and improve timeliness of financial reporting.
You're a progressive thinker: You're open to experimentation and are consistently looking for fresh ways of growing and innovation.
You have experience in M&A and/or tax planning structure changes and/or corporate structuring to support equity raises or leveraged finance
Candidates must have the following experience to be considered:
Relevant experience that includes working in a high growth company, including some international operations.
Skillset and deep understanding of mergers and acquisitions, profitability management, and strategic planning.
A strategic approach to financial management with a focus on developing strong business processes and platforms.
CPA plus an advanced degree in business/finance/accounting. – Financial designation
Exposure to leveraged finance
Experience with a Private Equity invested company would be ideal
Experience with publicly traded company would be an asset
The ideal candidate will be highly collaborative leader and skilled manager with the ability to work with a high performing team in the realization of operational excellence across a wide range of administrative departments and units. Summit Search Group will be conducting the search for this position. Please send your resume and cover letter to Matt Erhard at [email protected]. For more information, please call Summit Search Group at (204) 926-8896.