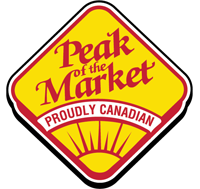 A Manitoba house-hold name, Peak of the Market has marketed quality and locally grown produce for over 79 years supplying over 100 different varieties of fresh and delicious produce. Their solid reputation resulted in being named one of the "Top 100 Canadian Food & Beverage Companies 2017".
Director of Sales
Reporting directly to the Vice President Sales and indirectly to the CEO and President, the Director of Sales will provide information, expertise, and direction to the Sales Team to facilitate the orderly marketing growth of all produce sales, grown or acquired, for Peak of the Market.
Key Responsibilities
Maintain a high degree of knowledge of Peak of the Market, its Customers, Growers, and Suppliers, as well as industry trends
Provide direction to Marketing Committees, Growers, and Staff on pricing for all local and export markets
Arranging pricing for Peak or Customer initiated advertising
Lead the development and implementation of Customer specific programs to help increase sales
Collaborate with Sales, Operations, and Finance on developing sound sales strategies and ensure priorities and objectives are aligned
Build strong relationships with Growers, Suppliers, and Peak Staff based on honesty and fairness
Work closely with the Import and Transportation Departments to build programs for Peak's Customers
The ideal candidate brings 6-8 years of professional sales management experience along with a post-secondary education focused on business, marketing or agriculture.    You are a forward thinking, demonstrated hands on leader who can provide the direction and vision to fuel the sales growth of the operation with a strong focus on achieving results. With a heightened sense of urgency, the Sales Director would be extremely detail oriented, possess an entrepreneurial drive with superior interpersonal and communication skills, a strong business sense and an ability to analyze data and industry trends.
To learn more about this outstanding leadership opportunity, or to receive the full job description, please contact Gail Eckert at [email protected] or call 204-981-9839